Best CZ Scorpion EVO Accessories to Enhance Your PCC
Over the past few years, the concept of the pistol caliber carbine has really taken off. These handy rifles (or pistols, legally speaking) are often chambered in 9mm, comes with short barrels, and are exceptionally lightweight when compared to full sized rifles. The caliber makes them easy to shoot, and still competent defense weapons at ranges out to about two hundred yards in skilled hands. We think that they're pretty handy in competition as well, and like the concept so much that we recently put together an article of the best six pistol caliber carbines in our minds. Today will be discussing the well liked CZ Scorpion EVO.
In this piece, we're going to be digging a little bit deeper in to one of the better pistol caliber carbines on the market, the CZ Scorpion EVO. Named after one of the coolest Cold War Weapons, the Scorpion stays true to the old concept of the machine pistol: it is a replacement for either a rifle or a pistol that offers a stock and good firepower in a relatively compact package. This makes a pistol caliber carbine great as a truck gun or a home defense tool, as well as a hiking or camping weapon. Luckily, things have come a long way since the fall of the Berlin Wall: the old Scorpion was cool, but had a tiny barrel and a stock that shook like mad. These new ones, on the other hand, are a polymer framed firearm that is light, rugged, and reliable. With a great platform like the modern CZ Scorpion EVO as one of the best 9mm carbines on the planet, it makes sense to outfit it with some great firearm accessories. So, here's our list of the top then things you should consider adding to your pistol caliber carbine. We don't think the gun itself needs much messing with, so we only end up making a single mechanical modification on our list of recommendations. Really, we think some simple quality of life upgrades, like a magazine release, some new mags, and a mag loader can make a lot of difference in this already great firearm. Without getting into the internals at all, a light, grip, and a red dot sight can also really make the CZ Scorpion EVO a joy to shoot.
---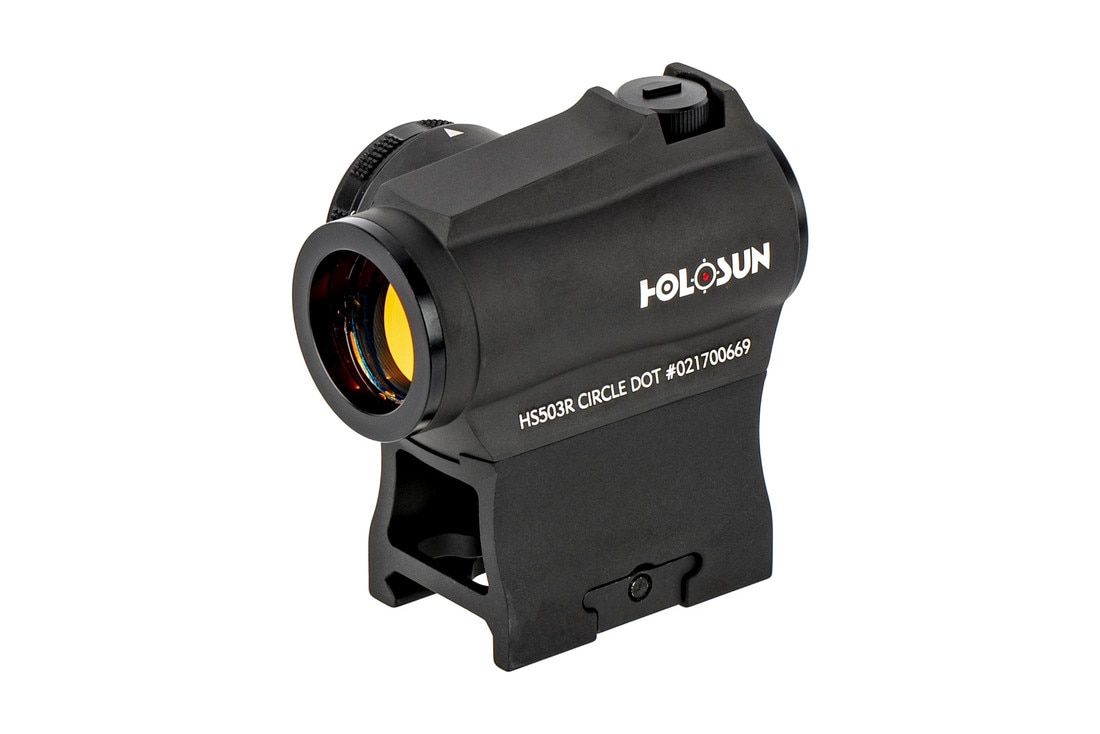 Red dot sights have come a long way, especially in terms of price, over the last half decade. Now, it doesn't necessarily have to cost several house payments in order to get a sight that is made of quality materials, will last a long time, and will help you get on target. The Holosun HS503R 2 MOA Micro Red Dot Sight with 65 MOA Circle is proof of that.
This sight has two modes: a 2MOA red dot, or the dot with a 65 MOA circle around it. Either way, you put the dot on the target and press the trigger for best results. One thing we like about the ring, though, is that it helps with target speed. If, for example, all you need is a hit somewhere on the target to stop that competition timer, or bad guy in your house, then simply filling the circle with the target will get the job done quicker than aiming with a single dot. This one is set up to run for 100,000 hours on a standard CR2023 battery on medium setting, and is built to last with a limited lifetime warranty. In terms of mounting, we chose thins one because it comes with a 1/3 cowitness mount, which will also allow you to use backup iron sights should this rugged optic fail, which we think is a smart precaution in building a home defense carbine.  Red dot sights are quick to get on target, and are useful for the ranges most commonly seen in defensive carbine shooting, such as in the home. Thus, we think it's a great idea to add one onto your CZ Scorpion EVO.
---
Being that the CZ Scorpion EVO is one of the best 9mm carbines on the market today, we expect that a few of you will be running it for competitions. In a competition, a sling is an absolute necessity, and you really don't want to worry about breaking the sling in the middle of a match, especially if it's one of the ones where you need to quickly transition between pistol and carbine in order to make good time. Thus, we recommend a seriously high quality sling. This one, by Blue Force Gear, is a great option.
The sling itself I a fully adjustable nylon meant to be adjusted in a snap from being a tight on the back sling to a stabilizing sling to help you make longer shots. That's what the designer, Larry Vickers, a legend in the firearms training world, wanted out of this sling. Also, the hardware is meant to be both rugged and light, so that you are extremely unlikely to experience any kind of breakage with this sling. Yes, it's a little bit on the spendy side of things, but we think that, for a firearm as nice as the Scorpion, you don't want to chance dropping it in the middle of a match.
---
Of course, we expect that if you own the CZ Scorpion EVO, you'll be doing a fair bit of shooting. With some of the smaller manufacturers, sourcing magazines can be kind of a pain. Luckily, that isn't the case with the CZ Scorpion, as they've really made a smash hit with this handy pistol caliber carbine.
With massive success comes, in some cases, great accessories and aftermarket support like these Pmags. They're exactly what you expect from Magpul: a 35 round polymer magazine that is reasonably priced and will likely stand up to a serious beating. These have a nice added feature of a window for round visibility. Also ,the dot pen matrix is the perfect spot to number the magazines, which we recommend just for the sake of not having your friends "accidentally" pick up one of yours: a silver sharpie is the perfect way to fill these out, by the way. These are likely to become an industry standard magazine for the Scorpion, so we recommend picking up a few today.
---
Shooting is easily my favorite pastime. I like so much of it. If you're shooting at the indoor range, you get to talk guns with the dude at the counter. Outdoors, you get fresh air, and there always seems to be that one old timer who can put a 3 round group in the size of a quarter at any range. Walking around in the woods? Great fun. I really like cleaning firearms, too. It's relaxing. And the joys of shooting itself are really hard to beat. Know what isn't fun? Loading magazines. It's monotonous, hard on your hands, and you always loose count and end up under or over loading a magazine.
These speed loaders are a real lifesaver in a range bag, and I try not to go to the range without one. This one by Maglula is really simple. Just pop it on the top of the magazines we just recommended, insert the round and work the lever. Repeat 35 times. Since there's not the human factor of us jamming things into the magazines incorrectly, these also likely increase magazine lifespan, which is always a plus in our book. Pick one of these up and thank us a few thousand rounds from now.
---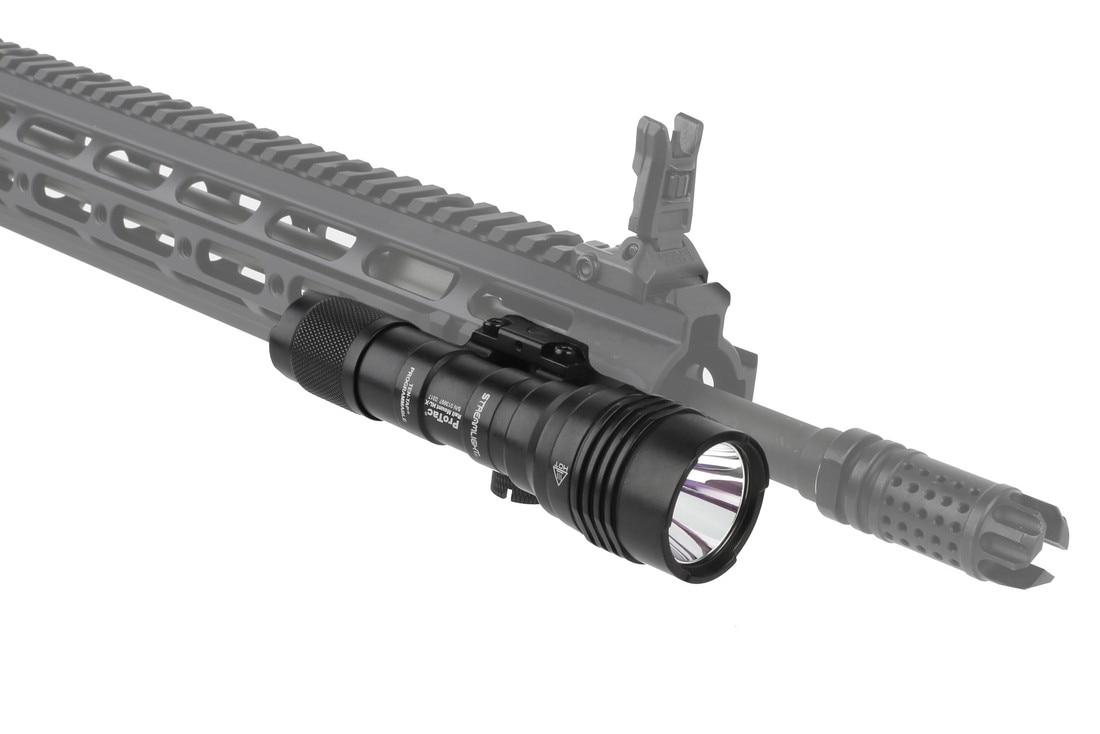 Aside from being a great competition pistol caliber carbine as well as plain fun to shoot, the Scorpion would make a great home defense weapon as well. We think that it is deeply unwise to shoot at things you cannot see. Thus, we recommend putting a light on every single firearm you think you might want to use for home defense. In this case we're recommending the Streamlight ProTac Rail Mount HL-X 1000 Lumen Weapon Light with Tapeswitch.
This durable, well built light is a handy package for several reasons. First, it's bright. We mean blindingly bright, which will put any would be attacked on their heels in a fight, which we think is a good thing. Second, it takes standard CR123 batteries, which we like. It's also water resistant, which may well come in handy if you need to fight in the rain. This particular package is attractive in that it's all in one : the light, mounts, and an optional tape switch come all together so you just have to dial it in to your wants and install it. Overall, this is a great package for your CZ Scorpion EVO to help you see the light.
---
The CZ Scorpion EVO handles brilliantly: having gotten to shoot one, the balance is not overly nose heavy but it does have enough weight to keep the muzzle from flipping too much under the somewhat snappy 9mm recoil impulse. That said, short firearms have one distinct handling drawback: it's easy, especially for inexperienced shooters, to get their hand out in front of the muzzle. This is, in technical terms, a very bad time for all involved. So, we recommend a grip on your Scorpion to keep that from happening.
For these next two, we'll be getting into some legalese, but that matters here. Generally speaking, you can put an angled grip on a pistol and that is just fine in the eyes of the ATF. In the Pistol v Rifle debate, rifles clearly win here as you can put anything you darn well please on a rifle, grip wise as long as it doesn't make the rifle into a machine gun or shorten the barrel. So, if you have a Scorpion that's registered as a pistol and want a grip, go with this angled fore grip by Magpul. The Scorpion I ran a few magazines through had one, and I liked it very much as a hands top and it felt like a great fit on the gun.
---
If, however, your Scorpion is registered as a rifle, you can go ahead and get a vertical foregrip to enhance weapon handling. Some people really like grips on their competition carbines so that they can more positively drive with the front of the gun, and also to keep down on muzzle flip. This one, a skeletonized model by Timber Creek, is a great option. It's a sturdy aluminum, 2.9 oz grip that we think would look great on a flat dark earth Scorpion to maintain its vaguely futuristic looks while also avoiding adding much weight wise. Besides the Scorpion balances so well as it is that we think a little bit of weight up front will be just fine.
---
Left-handed folks have it a little bit tough. Doors are wrong for them most of the time. Same with scissors. The AR15? It'll blast hot brass right in their faces. So, we can do them a solid every now again and improve the ergonomics of firearms in their favor. That's exactly what this improved magazine release from Magpul does.
Basically, this replaces the stock magazine release catch with a larger and ambidextrous one. This means that our unfortunate, left handed brothers and sisters can much more easily get the magazine out, and the fact that it is larger than the original makes this a great upgrade for anyone to consider doing to the Scorpion. It would speed up reloads, especially in a competition setting, especially were you to use the CZ Scorpion EVO as your competition carbine.
---
If you have one of the early models of the CZ Scorpion EVO that came as a pistol, you might have kind of a hard time finding a brace to make it into a pistol caliber carbine. SB tactical has just the thing for you with this stabilizing brace. Basically, you attach this to the end of the receiver with a few screws (we recommend thread locker, as this will get knocked around a bit as it's at the mechanical end of the gun), and you end up with a brace that can be adjusted for multiple positions to allow for really comfortable shooting of your new pistol caliber carbine.
The major thing we like about this is just how compact it is. Basically the only added bulk is on the back of the gun, and that isn't much. The gun can be fired with the brace at any position, and it's an overall really slick package that we highly recommend in order to make this just about the best pistol caliber carbine on the market.
---
If you're looking to up the fun factor on your Scorpion this is, absolutely, the mod for you. This binary trigger does what all binary triggers do: make the weapon shoot potentially faster. Basically, once you have this installed by a qualified gunsmith, you can set the trigger to fire normally, or, to fire once with each press and each reset of the trigger.
This potentially doubles your rate of fire. Now, aren't you glad we recommended you that magazine loader as well? With these, we do recommend getting some training and spending some serious range time with it in order to get over the fact that it can discharge on trigger reset as well as trigger press. This recommendation is to keep down on negligent discharges. Basically, this trigger is a way to turn your CZ Scorpion EVO into a mag dumping machine.
---
Parting Shots…
In this list, we've covered the top ten accessories that we think will make your CZ Scorpion the best pistol caliber carbine on the market today. Some of them are as simple as magazines and a loader to make your life easier at the range. With just a little work, we think the combination of a light, red dot, and a grip can make this into a bona fide race gun that would also do really well in home defense situations. Finally, with a little more tinkering, adding a brace or a binary triggers can really make the Scorpion into a great firearm. The system itself is more than solid, and we think that CZ have really outdone themselves this time. We see exactly why people like this firearm so much: it's well handling, rugged, and shoots like a dream. If you get the chance, pick one up and add some accessories to it to make your own.