Best CZ75 Accessories To Elevate Your Shooting Experience
Advertisment
Recently, we did an article covering some of the best 9mm handguns on the market today. One of those was the CZ 75, and we have included the best CZ75 accessories to go along with your handgun, Made in the Czech Republic, this firearm is an interesting one. Basically an updated version of the Browning Hi Power, which we also covered, the Czechs really took the design and aesthetics to the next level in this honestly beautiful firearm.
The all metal frame, of course, looks great. But within it, you'll find a lot of great design and ergonomics that have made it a favorite of European police and military organizations for a few decades now. In this list, we're putting together ten of the best accessorizes to incorporate this excellent 9mm pistol into your concealed carry lineup.
---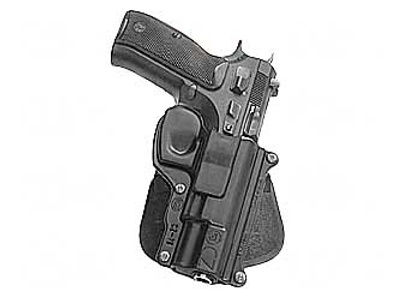 It does make some sense that if you plan to carry the CZ, that you should probably think about some means by which to actually do so. Choosing a carry holster is a deeply personal decision, but the fact that the CZ 75 is a full sized, all metal handgun, something some substance does seem to make some sense. To that end, we focused on a holster meant for outside the waistband carry with a cover garment, or perhaps for open carry if your locality allows.
For this one, we're picked the Fobus standard paddle holster. It's a very no-nonsense setup. It's a black kydex holster that retains the CZ exceptionally well, and makes for an easy draw even with the trigger well and safely covered. There's also a large paddle on the back to keep things both comfortable and secure. This one will fit a variety of CZ75 sub-models, so if you, like some of us, have been bitten by the collecting bug, this holster will likely see a lot of use.
---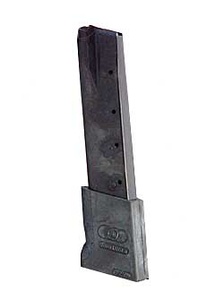 As a metal wonder nine, the CZ 75 comes standard with 16 round magazines in a flush fitting configuration that makes the weapon extremely slick to handle. With that said, some people find this a little bit lacking and want, if they can, to be able to bring some more rounds to bear in a potentially hairy situation. That is an understandable impulse, and CZ has you covered for jjust those kinds of situations.
CZ themselves make a 25 round magazine that fits in the 75 frame, with an attractive extension that does not overly disrupt the overall aesthetics of the weapon itself, and still maintains handling. One of the better things about these firearms is that, since they ate made of metal, a little extra weight in the magazine well does not adversely affect ergonomics or speed of handling too much. That said, a longer mag is a little bit harder to conceal. So, we recommend these longer mags as backups, that can be stored in mag holsters or in a bag, in case a particular situations gets sideways enough such that a 25 round magazine is necessary.
---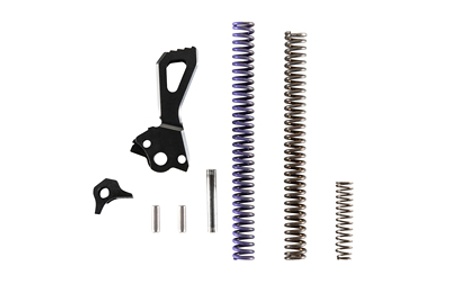 The Cz 75 is an undeniably slick gun. From its looks to the way it operates, it is really clear that the folks at CZ knew what they were doing, and high high performance in mind when they did it. With that said, a CZ 75 is kind of like a European sports car. It's cool, it's fast, and it's gorgeous. That will likely have you wanting to tinker with it in order to make it run even faster.
That's exactly what Apex tactical has in mind with the AE kit. Now, keep in mind, this spring and part kit is meant for the models that have a decocker, so the CZ 75B. This kit, the Action Enhancement Kit, is meant to get the gun running as well as it possibly ca. Included in this kit is a performance hammer, performance matched sear, new two new mainsprings, a new firing pin return spring, two hammer pins, and a slave pin. Add all of that into the gun, and you'll have one of the best performing 9mm handguns, probably on the planet.
---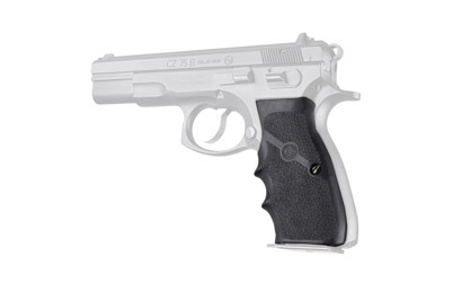 As we've mentioned a few times, the 75 is a seriously slick handgun. Perhaps, in some ways, too slick. Some people find the stock grips to be a little bit lacking it the texture department and worry about being able to draw and fire both quickly and accurately under duress. Those concerns can be addressed, though.
Hogue makes new rubber grips for the 75. The black grips will not spoil the good looks of this 9mm pistol. Instead, these simply replace the factory grips with something very slightly bigger, with some texture. There are also finger grooves to ensure an immediate and positive grip on the firearm should you need to draw it in a hurry.
---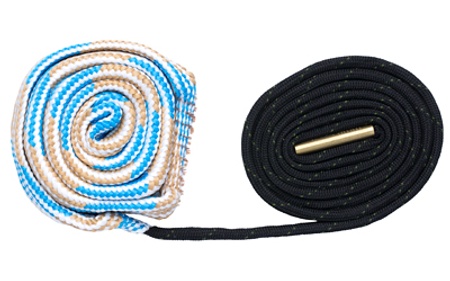 With a firearm as nice as the CZ 75, taking care of it is part of the responsibility of ownership. Thats why we made this CZ75 accessory article. You'll probably end up doing a lot of shooting with it at the range, and thus get the bore pretty dirty. When you do, you'll need to get all of that gunk out so you can get many years of good function out of the 9mm pistol.
In order to do that, one of the better tools for the job is a bore snake. This one, b Hoppes, is long enough to be used in a 9mm carbine, but there is nothing stopping you from using it to clean the shorter barrel of a pistol as well. We recommend that you pick up at least one of these for each caliber that you shoot. No more tedious swabbing, just run this through the bore a few times with some cleaner, and one last time with some lubricant, and you are more than good to go. This is a quick, well made, and easy to sue tool that should have a permanent home in your cleaning kit.
---
6. Versacarry Semi-Auto 9mm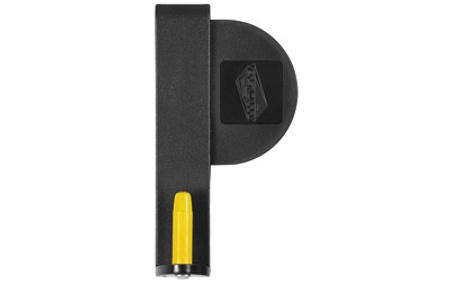 If the idea of minimizing the amount of gear you have to carry is something that you are concerned about, then a big, paddle holster might not work so terribly well for you. Instead, you might want to think about another option for securing your firearm to your person. In this case, we're going to go very, very minimal indeed.
The Versacarry is a really interesting concept. Basically, you put the end of the barrel on the little plug, and the holster attaches to your belt for the most minimal inside the waistband carry on the market. Normally, the idea of having no trigger guard makes my palm sweaty just thinking about it, but the CZ75 is designed such that we're more willing to recommend it in this case. Unlike some of the newer polymer guns, the 75 still has a manual safety. This means that you are much, much less likely to suffer a negligent discharge with this using the Versacarry as compared to, say, a Glock 19. It's an interesting design that is worth a look, in our opinion.
---
7. Winchester Ammunition USA, 9MM, 115 Grain, Full Metal Jacket, 500 Round Ammo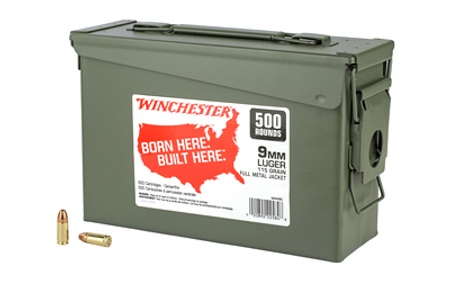 With all of this talk about how fun the CZ is to shoot, you'll probably want to do so quite a bit. With that in mind, you're going to need a large source of ammo to keep you at the range for as long as possible before having to make another order.
To that end, we recommend the Winchester ammo can. In this package, you get 500 rounds of 9mm ammo that is certainly more than good enough for the range. You may want to consider hollow points for carry, but if you so choose, there's nothing wrong with using round nose either. These 115 grain full metal jacket rounds will consistently perform. They also come in a handy ammo can, which we think is an added value because you can use them for all sorts of stuff. Got to have some ammo to use your new CZ75 accessories.
---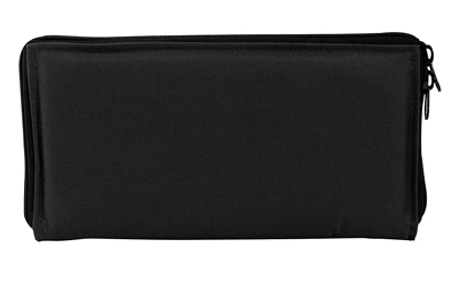 I don't think we can really overstate just how nice of a firearm the CZ 75 is. The finish on most of these models is truly wonderful and is honestly pretty durable as well. With that said one thing we should keep in mind is trying to keep this firearm as nice as possible for as long as possible. Most of us take our guns to the range in some sort of bag and there has to be a better way transporting our firearms to the range then just checking them in some large compartment.
Now with that in mind there are some good solutions out there. In this case we are recommending the NC star pistol case range bag insert. Conceptually this is simple. Really, it's just a black nylon zippered pouch with a nicely padded inside. As simple as this is, we think it's a really good way to protect your CZ-75 from the kinds of damage you usually get by just having it inside of a bag by itself, or in a holster in a bag. For relatively little investment, this will keep the finish on your handgun as nice as possible with this CZ75 accessory for years to come and it's small enough that you're unlikely to forget it or excluded because of weight or size.
---
9. Hiviz Litewave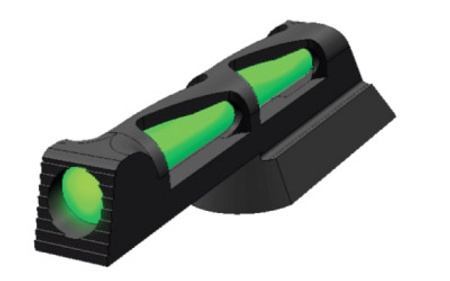 As with most service pistols the sites they come on the CZ-75 are themselves pretty basic. Really, they're just a black front and rear sight that you line up. With a little bit of practice, however, these sites can be really slick and work quite well in a variety of situations. With that in mind though here we're focusing on trying to make this 9 millimeter pistol the best carry gun that we possibly can. so here what we're going to do for the last couple of options is upgrade the sights making the perfect CZ75 accessory.
In this case, we're starting with a front sight by Hi Viz. This fiber optic front sight slides in in place of your currently black front sight in gives you an extremely easy to follow green dot. You can, in fact, use this completely by itself and leave the rear sights as they are. Most CZ's come with either black or white dotted rear sights, so having a green front dot for your sight picture actually makes target acquisition pretty easily. If you use the front sight by itself, though, you might lose just a little bit of precision. The tradeoff is that instead of precision what you'll have is an extremely easy to follow and thus extremely quick to follow green dot that you can simply place on your target. If you're trying to make as minimal modifications to your CZ-75 as possible but you still want extinctive improvement in target acquisition speeds we recommend tossing on this front sight.
---
10. HIVIZ LITEWAVE REAR SIGHT FOR CZ75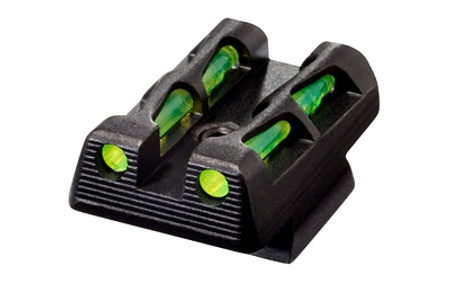 Of course you don't have to leave the rear sites well enough alone either. As a matching companion to the previous entry into our list Hi Viz also makes a set of rear sights for the CZ-75. There are some major benefits to using these in tandem with our previous recommendation and taken together we think they present a good sighting solution for the CZ-75 without disrupting the aesthetics too terribly much making the perfect CZ75 accessory.
Much like the front sight, these are basically little fiber optic tubes. With the front sight there is one of course. In the case of these rear sites there are two. Thus, the sighting system is pretty self-explanatory; all you have to do is line up the three dots and press the trigger. With that in mind one major benefit to the system is that you actually can change out the colors for this sighting system; they come with green red and black pipes. We're not terribly sure what use you would get out of the black ones, except to reset the size to something that looks a little bit more factory. If you want to get really slick with these, it might not be a bad idea to leave the rear sights one color and the front sight another. For example, you could put a red dot in the front and have two green dots in the back so that you're I will still want to follow that one red dot for super-fast target acquisition.
---
Parting Shots…
As far as 9 millimeter pistols go the CZ 75 is truly one of the best available. It has a design heritage that goes back nearly a century as well as coming from a country with a history of excellent quality in small arms production. In this list what we've tried to do is offer you some ideas to make this already great pistol function even better in its role as a concealed carry firearm.