Best Sig Sauer P226 Accessories for Your Pistol
Advertisment
Chances are, if you're here you've seen our recent article covering what we think are the best 9mm pistols. It's an excellent cartridge, and it's no wonder that it has become arguably the most popular concealed carry round on the planet. In that category, few pistols have the provenance that is afforded to the Sig Sauer P226 and now we're going to look at the best Sig Sauer accessories.
Sig has been making 9mm pistols since the cartridge was new, and their entry into the United States' competition to replace the 1911 was the legendary P226. It didn't win the larger competition, but was later picked up by the SEALS as the Mk25, which you can still buy from Sig. This all steel firearm comes with a decocker and a long, double-action trigger pull in order to cock the hammer, making it one of the best choices out there for concealed carry. Frankly, if it's good enough for the frogmen, it's more than good enough for anything you can probably get yourself into.
---
Here are ten things we think will help you get on the ground running in carry the Sig P226. Basically, we don't modify the gun itself much at all, since the folks at Sig Sauer really got it right with this one. Instead, we picked out ten accessories that will help you make the best use of this excellent firearm. We hope you find something that you find really useful on this list, and check out our recommendations.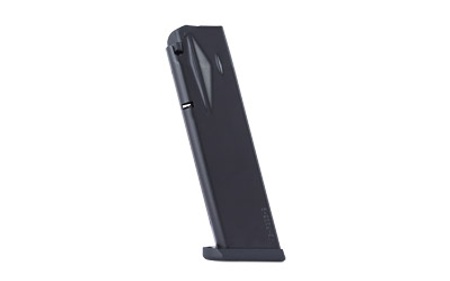 Of course, you're going to need magazines in order to concealed carry this 9mm pistol. The Sig, being one of the more popular handguns on the market, has a pretty large aftermarket for magazines. Sig makes fantastic products all around. They run with tight tolerances and function fantastically well due to superior Swiss engineering. One of the things that some folks do not love about the superior Swiss engineering, are the superior Swiss prices for OEM parts.
With that in mind, these 18 round magazines from Mec-Gar are an excellent, and substantially more affordable option to keep your P226 well fed. These have a steel construction, and come with an anti-friction coating. Having a good, reliable magazine is, in many ways, the heart of any concealed carry system, and we feel comfortable recommending these to use on a daily basis. If anything, at this price, you might do well to pick up a few to make sure that you always have a sufficient number of magazines on hand.
---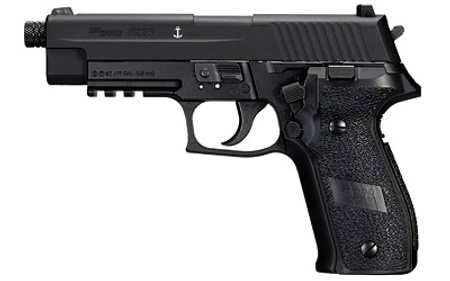 The P226 is an excellent firearm. As Sig fans ourselves, we think it is nearly impossible to beat them in terms of fit, finish, and overall shooter experience. With that said, practicing with a Sig, or any firearm for that matter, has costs involved. Ammo isn't cheap. Neither are range fees in most places. But, if we're going to be prepared for the worst, we have to train? So, what can we do to offset some of those costs?
One thing we can do in order to get in some training time, while saving a good deal of money in the process, is pick up an airsoft version! This one, a semi-automatic, CO2 air pistol, fires .177 pellets from a 4.4 in barrel It comes in the same black finish as the real deal and holds 16 rounds, just like standard Sig mags. Since it's C02 powered, it even has a little bit of recoil. While this won't necessarily make you John Wick, it will teach you how to operate the gun's controls and sights more effectively. Also, if you want some tactical training you can start participating in the sport of airsoft. These things are also seriously fun. Just try to keep from accidentally holstering the airsoft version when you go to leave the house in the morning.
---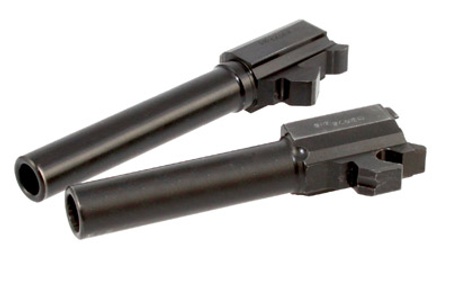 When it comes to kit, the SEALS tend to get things pretty well right. From their early adoption to the M16 in Vietnam, to the P226 in contemporary times. One thing those gentlemen like to do is get in, and out, without being noticed. Thus, the 226 is designed well to take a suppressor. This is a major benefit to us, as 9mm is one of the cartridges that performs best with a suppressor.
But, most 226's do not come with a threaded barrel. Luckily, we can fix that. This one, an OEM Sig barrel, simply drops in when you have the P226 apart for cleaning, which you should already be doing on a regular basis. Then, all you have to do is take off the thread protector and screw in your suppressor. Since this one is a more European-focused design, it comes in 13.5×1 left handed thread, so keep that in mind when you're picking out a suppressor.
---
4. Hogue Sig Sauer P226 Accessory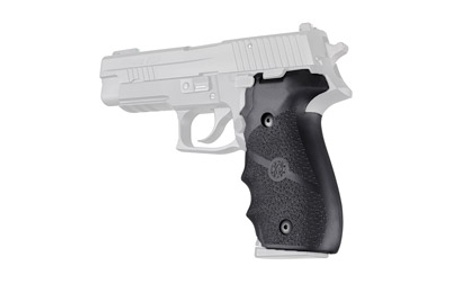 We think that, generally, the Sig P226 is one of the more ergonomic 9mm pistols straight out of the box and makes an excellent concealed carry weapon right off the bat. With that said, some people don't love the original grips, manage to damage them, or for one reason or another wish to replace them. If that's something you're interested in, we have something for you.
These Hogue grips come in black rubber, and wrap around the back of the grip. They're just a little bit bigger than the stock grips, but not so much that they'd interfere with fitment in the vast majority of holsters, or make you print any worse than you already are. These have an excellent texture and ergonomics, making them a solid upgrade if you want to change our the grips on your 226.
---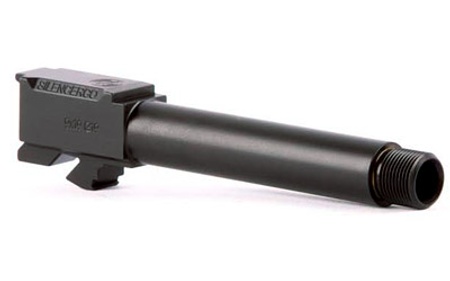 As we had mentioned before, the Sig 226 is an excellent suppressor host. The all steel construction already keeps recoil low. Additionally, it does look damn cool with a can off of the front. If you're a total purist and only want to use Swiss parts on your Swiss gun, the Sig barrel is the way to go. But, finding a suppressor in 13.5×1 left handed thread can be a little bit of a pain. What if you already have a 9mm can, and want to be able to get more use out of it?
If that's you, pick up this Silencerco barrel. Silencerco is arguably one of the better manufacturers of suppressors on the market today, and one of the best Sig Sauer accessories. Like the Sig barrel, this one just drops in while the gun is already apart. The difference here is that this one is in the more common 1/2×28 thread, so you have broader suppressor choices.
---
Again, the P226 is arguably one of the best 9mm pistols on the planet just as it leaves the factory. With that said, many of us take a great deal of pride in making our concealed carry pistols our own as much as we possibly can. For some of us that means barrels and finishes. For others, it means making the gun run just a little bit more quickly.
One way to squeeze just a little more performance out of the P226 platform is to modify the trigger a little. Generally, you're stuck with the same format, a DA/SA trigger. Instead of a manual safety, the P226 relies on a relatively long trigger pull in order to cock the hammer. Once that's been done, a round fired, and the trigger resets, then there is a second, much shorter and finer, trigger pull to keep the gun in operation until ammunition has been exhausted. What this kit does is tweak the single action trigger resent just enough to make a difference, and thus allow for faster follow up shots.
---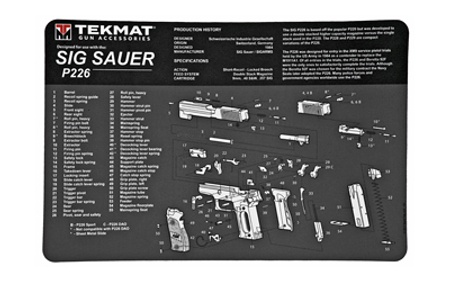 The P226 is, in our opinion, a beautiful gun. The finishes they come in are generally durable and very well done. The firearm is a tool that is meant to be carried and used, but that doesn't mean that you need to beat on the tools. Instead, we recommend taking care of your tools as best as you possibly can.
To that end, you also, like us, clean your guns at home on a table. If you're lucky you have a workbench on which to do such things. No matter where you clean your gun, you'd rather not scratch the gun, lose parts, or damage the table. Thus, we recommend Tekmats. They're pretty simple in concept, it's a rubber mat with a printed neoprene finish that you place on a surface to make it a little softer spot on which to work on your guns. This one has the parts diagram of the P226 printed on it, which we think comes in handy. They also make lots of other pistol versions, rifle versions, and some novelty products as well, so check them out.
---
8. ProMag Sig P226 Accessory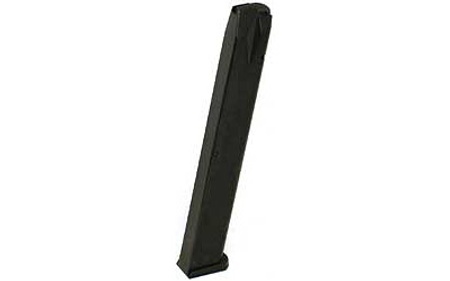 The first magazine we recommended was around the standard capacity for a Sig P226, 18 rounds. With that said, sometimes that just will not do. When you do run into a truly bad situation, sometimes a little more firepower is necessary. While they may be a little harder to conceal, and thus maybe not the best call for your normal CCW magazine, as a spare mag can be put in a bag, and thus size might be a little less than issue.
Here, we recommend the promag extended magazines for your 9mm Sig p226. This one has a 32 round capacity, nearly doubling the capacity. If you need to put down suppressing fire with the Sig, this all steel magazine will certainly get the job done. It's also very hard to beat the sheer fun of doing a mag dump of 32 rounds with a pistol this nice. These run like butter, and will certainly do so with these magazines.
---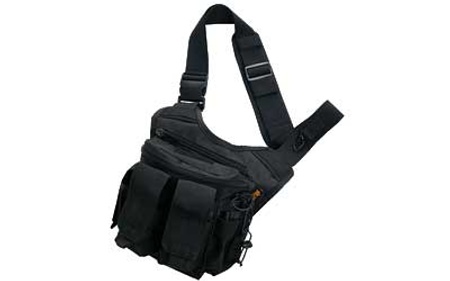 Speaking of bags, the Sig p226 is kind of heavy. If you add everything from this list, you're going to have a few extra magazines and perhaps a suppressor. All of that, plus probably a cleaning kit and, if you're smart, some ear protection, starts to become sort of a lot of stuff. What can you do to keep all of that handy, while still being able to deploy the gun quickly if need be?
We recommend the US Peacekeeper Rapid Deployment pack. It has a few outside pockets for magazines or, in this case, perhaps an easily accessible medical kit. There's also a fairly sizable interior pocket to store whatever you may need. We think you may even be able to fit a Tekmat in there and turn this thing into a mini range bag. Then, there's a special compartment just for the gun, to make it possible to draw and fire quickly if necessary. Overall, this is a solid bag if off-body-carry is something you want to consider.
---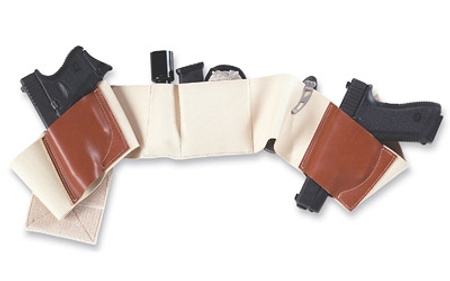 Off body carry is, obviously, not for everyone. If anything it means that you might need an extra second or so to draw your firearm when seconds really, really matter. With that said, you might want to consider a little bit different option when it comes to getting the P226 on your person.
For fantastic on-body concealment, consider one of these belly band holsters. This particular one can hold two pistols, some magazines, or even a flashlight or pocket knife. Depending on your willingness to Velcro things your abdomen, this can become basically a battle belt that you wear below your clothes. These are decent options for people looking to avoid printing, or for folks who do not wear a belt.
---
Parting Shots…
The P226 is easily one of the best 9mm pistols ever made. That's why, in this list, we don't really make too many changes to the gun itself. Instead, we focus on small upgrades that might make good performance or concealed carry gains for you. For example, sticking on a new barrel and a suppressor might make the weapon a little more capable for home defense, and the short reset trigger will make for faster follow up shots. Overall, this is one of those firearms that you will be very happy to own.
---