JP Rifles GMR15 Accessory List [Top Ten PCC Accessories]
In the past few years, the concept of the pistol caliber carbine has really been developed nicely. The need for a light, handy weapon is not a new one, but now we are finally at a point where people can get a reliable, handy carbine in a pistol caliber that is great for both home defense and competition, while taking advantage of all of the modern conveniences of things like the AR platform. Today we will discuss the GMR15 with this GMR15 accessory list.
Basically, the concept of the pistol caliber carbine dates back to the second world war. Many militaries had a fundamental problem: not everyone was a front line rifleman, but pistols are, to be frank, kind of trash when it comes to a fighting weapon. We carry pistols as convenient  tools to get us out of a jam. You do not want to face a group of enemy soldiers with a 1911 carrying 7 rounds of .45. But, at the same time, the millions of truck drivers, guards, and aircraft crew don't have the room, or the need, for a rifle. Thus, the M2 carbine was developed: taking 20, later 30, round magazines of a smaller round than the M1, the M2 was a semi-automatic carbine that got the job done for a lot of troops, even finding its way into frontline service, as many appreciated how handy it was. The same is true today, and we have excellent pistol caliber carbines like the GMR15, which is effectively an AR chambered for 9mm and meant to be an excellent pistol caliber carbine for home defense or competition.
The rifles come pretty well bare, and we're taking this as an opportunity to add a few accessories to it that will make this an excellent weapon for competition, home defense, or as a handy carbine to take with you backpacking or in the truck. In this list, we cover a pretty wide variety of mods. The first thing you have to worry about is getting rounds on target. To that end, we recommend a quality red dot sight as well as a light and relevant accessories in order to both get the rounds where you want them, and to be able to actually see where you want them.  Following, it makes sense to try and dial in the ergonomics of the gun. To do that, we recommend a sling to keep the carbine close at hand, as well as a variety if hand stops that both make the weapon handle better and, vitally, keep your  hand back from the muzzle. Finally, we think it might be a worthwhile thing to do to consider upgrading both the charging handle and trigger so that the firearm shoots exactly how you want it to. And, of course, some ammo to sling down range once you're all done adding parts.
Basically, the GMR15 is a quality pistol caliber carbine that we think would be an excellent choice for either self defense or competition. With any of the mods from this list, you'll have easily one of the best pistol caliber carbines on the market today.
---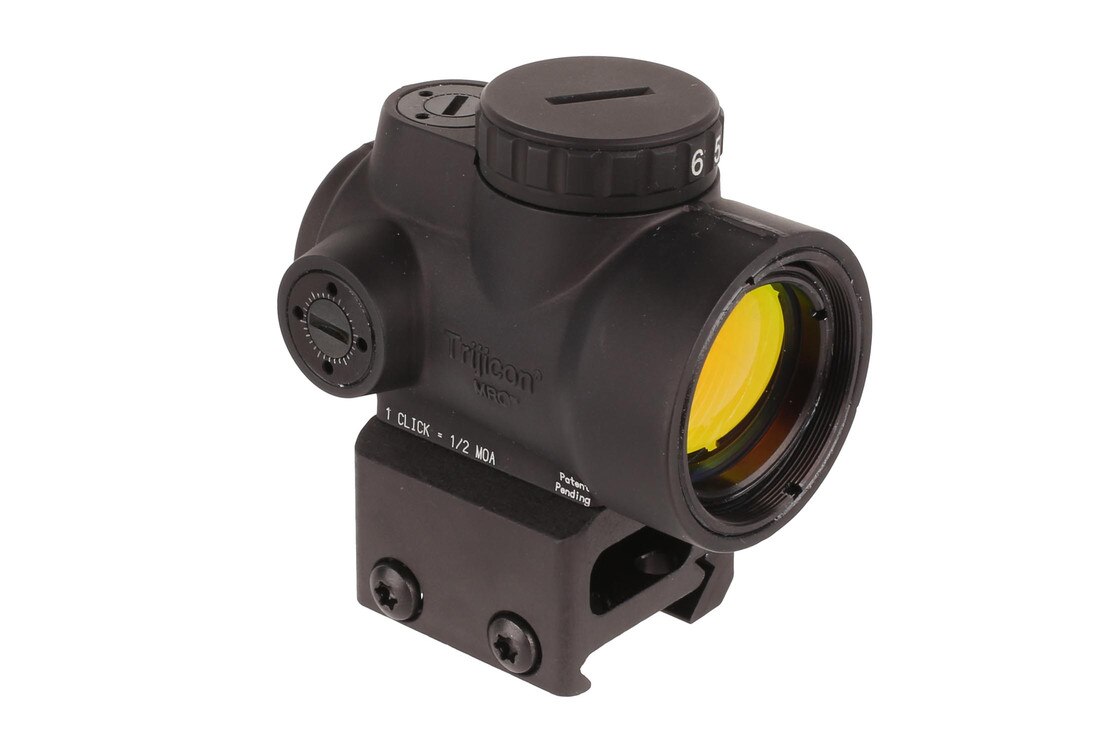 Of course, we are big advocates for hitting what we're aiming at. IN order to accomplish this, one of the best solutions for a 9mm competition carbine is to put a red dot on it. These come in all shapes, sizes, and budgets. Given that the GMR15 is marketed towards fairly serious competition shooters, we don't want to put a super cheap red dot on this one. It makes sense to match the quality of the GMR15 with an excellent sight, so, we're going with just about the best sight for the first GMR15 accessory.
The Trijicion MRO has a 2 MOA adjustable red dot that should stay functional for five whole years without the need to change a battery. There are eight total brightness settings, including two dialed in for night vision, meaning that this 4oz optic is great for most users. Additionally, the whole thing is sealed to the elements, with large and easy to use adjustments to make sure that this will keep rounds going where you want them. In short, this is a tough, high quality optic, with a co-witness mount, that will pair very nicely with the GMR 15. You might be able to save some money going with other brands, but if you need an optic that you can bet your life on, go with this one.
---
If you're looking at a GMR15, you almost certainly intend to shoot it in competitions. We recommend that every gun that you plan on using seriously for defense or competition has some sort of sling on it, as you may have to carry it or go hands free, and we don't want you leaving pistol caliber carbines on the floor like a Neanderthal. Instead, for a great competition sling, go with this Magpul sling. While it's meant to be used as a single point sling with a single hook, you can also set it up to run as a two point sling with the included quick detach mount as well as the aforementioned hook.
Basically, this is a durable and flexible sling that is made with similar attention to detail and quality as the GMR15 itself, so we think that it would pair well to the best pistol caliber carbine on the market today. We think that a sling is a necessary piece of gear to make the pistol caliber carbine as handy to use as it is capable. As a single point, slings can keep the gun on your person. If you choose to learn how to use it as a two point, though, then a sling can be an excellent shooting aid as well as a great GMR15 accessory.
---
One of the best things about modern pistol caliber carbines is that many of them take widely available and affordable magazines. This one, for example, takes Glock magazines. Thus, we're recommending the OEM Glock 17 mags in 9mm. These happen to take 17 rounds, but you can put any magazine you would into a Glock 17, yes, including the 50 round drums, in to the GMR15 and expect them to work. This has two major advantages. The first is cost- you probably already own Glock mags, and if you don't, they're pretty affordable. Second, if you do plan on using it in a two or three gun match, you might only need one kind of magazine, which will make your life much simpler on the range making it a great GMR15 accessory.
---
Still being advocates of not shooting what you cannot see, it makes sense to put a light on the GMR15 for home defense carbine shooting, or even for use in some stages of the more creative competitions out there now. Like our recommendation for a high-quality red dot, we don't think its right to skimp on quality for the light on this excellent defensive carbine. So, we're recommending the Surefire x300u. This awesome light has an output of 1000 lumens, has a rugged aluminum construction, and is water resistant to 200 meters. This is the light you want on your gun at the end of the world: it's bright, durable, and more than gets the job done while still maintaining a lightweight and slim overall profile that won't take away from the handiness of the pistol caliber carbine.
---
With a nice light comes nice light accessories. When really dialing in weapons handling, you want to move your hands as little as possible so that you're taking each shot from the exact same body position. Repeatability leads to accuracy, after all. So, moving your forward hand to mess with a flashlight button seems a little goofy. Instead, try this switch which connects to the Surefire lights. Basically, you put this switch wherever works for you, and you can simply hit it instead of looking for the light itself, meaning that you can operate the light with just the push of a finger. I like mine, for example, set up to use with the thumb of my support hand as a place to consistently place that thumb for the best shooting support. These are a major ergonomic upgrade to your competition carbine which is why we included it on this GMR15 accessory list.
---
In going with a pistol caliber carbine, you'll come to the debate of Rifle V Pistol. Practically speaking, you can have a firearm that acts, handles, and shoots the exact same way as both a rifle and a pistol. But, one, the pistol, will have to have a brace and the rifle can have a stock on it. There's one other important legal difference as well. Pistol's cant have vertical foregrips, only angled ones. So, if you want to put a grip on your pistol caliber carbine that is made as a pistol, we suggest something like this one by Fortis.
We like it because it doesn't really pretend to be a grip at all, and instead functions as a handy hand stop. That's the real benefit to one of these in the first place, to give you're hand a consistent place to be on the front of the gun and to keep you from accidentally putting your hand in front of the muzzle.  Frankly, we don't know how safe it is to have a short barreled, rifle style firearm without something to keep you from accidentally aerating your hand. Put one of these on for a good bit of peace of mind with the cost of just a little weight on the gun.
---
Some people are going for the absolute lightest build they can in order to make a quick competition carbine or an extremely svelte home defense carbine. If that's you, and you still want a hand stop, this one is a great choice. Made by Midwest industries, this truly tiny hand stop is a he bare minimum of size and weight to get the job done while maintaining usefulness and high quality. Basically this is a tiny aluminum wedge that has a hand stop on the side facing you, and a textured leading edge. That edge is where you can brace the pistol caliber carbine against some cover in order to make for a stable platform from which to shoot. These are seriously slick, and we think would make a great GMR15 accessory.
---
One of the first upgrades that people do to any AR platform, regardless of caliber or role, is to the charging handle, and we see why. The standard charging handles can be a little bit hard to function under stress, and are not at all friendly to left handed shooters who typically have to reach over or under the gun to charge it. This is where the Radian Raptor shines. It drops in just like the standard charging handle and presents a major upgrade. The Raptor has much bigger levers than the standard charging handle and can be used with either hand for a really positive charging of the weapon. If you're building a competition carbine, this is the perfect GMR15 accessory.
---
Another very common update to AR platforms that people like to make is the addition of a better trigger. The GMR15 comes standard with a trigger that we think is pretty nice, but we do understand that such things are a matter of taste rather than objectivity. So, if you find yourself looking for a different trigger, this is a great one to consider. Basically, this is a trigger meant for pistol caliber AR platform carbines and can be installed by most users, though if you're brand new to firearms you might want to ask a gunsmith or a handy friend to help you out a little bit on this one, as these can be a little tricky. What you get with this is a smooth, single stage trigger with a three pound break.
A single stage trigger's main benefit is that it does not have much take-up and no real wall. Instead, they feel much more like the trigger on a solid bolt gun, and have a single, smooth pull. This leads to more consistent shots. More consistency is great for any kind of shooting, but pays the biggest dividends in competitions, where it shaves time and increases accuracy. This trigger is a great GMR15 accessory.
---
Finally, we fully expect you to do a ton of shooting with you GMR15. Given how pricey of a firearm it is, it would be sort of a shame to run a ton of cheap steel cased ammo through it, even for practice. Thus, we recommend getting some high quality ammo for this quality pistol caliber carbine. IN this case, we're going with the Winchester 115 grain 9mm. These are round nosed, full metal jacketed rounds that should do well in this firearm and are good enough quality that we would be totally fine with running them for practice, in competition, and even as home defense rounds. The 115 grain rounds pick up a good bit of speed in the longer barrels of pistol caliber carbines when compared to pistols. Thus, we recommend picking up ammo that is on the hotter end of things as this will increase your range and accuracy with these handy weapon systems.
---
Parting Shots…
In this list, we've tried to put together everything that we think you'd need to make the GMR15 into the best pistol caliber carbine on the market today. We can start things off pretty simply, with an optic and a sling as a really basic package. With a little more effort, a good light can make this a really slick package, especially with a tape switch to help with ergonomics. To dial in those ergonomics even more, adding an angled grip or a hand stop can really take things to the next level on this defensive or competition carbine. Finally, if you're not totally satisfied with the way the things shoots out of the box, adding a trigger can be a way to make the firearm a little more to your liking. No matter what mods you end up choosing, the GMR15 is an excellent pistol caliber carbine that lives up to the ideas that came out of the second world war, for a handy and light weapon system that is extremely practical and useful in a wide variety of circumstances.