Top Ruger SR9c Accessories to Enhance Your Handgun
Advertisment
Recently, we posted an article covering what we think are some of the best 9mm pistols on the market today. Pretty high on that list is the Ruger SR9C. It's a polymer-framed semi automatic that is a pretty new entry from Ruger, an American manufacturer that has been committed to quality for decades. Lets take a look at some Ruger SR9c accessories.
This particular handgun is a really sweet one. It's well balanced, light, and basically designed for concealed carry, which is our major focus here. It has two safeties: one on the trigger, one on the frame, taking advantage of both 1911 and Glock styles. It's also pretty affordable.
In this list we're going to try to get you the kit you need to carry the SR9c every day. This list doesn't really change the funamdentals of the SR9c in a major way. We think it is an excellent handgun overall. A lot of the other pistols on the market are starting to show the age in their design. Trying to innovate too far, and you may stray away from reliability. Ruger stikes a really effective note somewhere in between. This is a reliable gun, shooting the very well established 9mm cartridge. It borrows the operating principles from the Glock, yet incorporates the manual safety of some of the older metal wonder nines. Add some of that good Ruger engineering, as well as the great Ruger price point, and you have a serious winner. This list, then, is really a list of suggestions to integrate this excellent pistol into your concealed carry routine.
---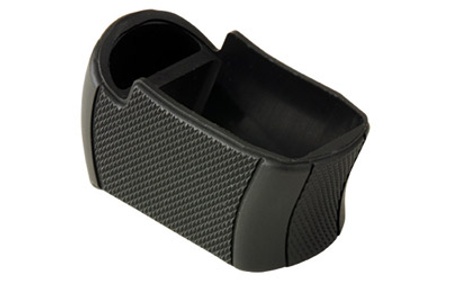 The SR9c comes standard with 17 round magazines that fit flush in the magazine well. For the purposes of concealed carry, they are an excellent option. Where some folks, especially with larger hands, find that a little limiting, is in trying to get a full grip on that magazine. If printing is not a major concern of yours, you might want to consider something to boost the ergonomics a bit.
Luckily, Ruger has thought of that. This mag adaptor fits on the standard magazines and effectively offers a pinky extension that makes them a little bit longer. On the one hand, that does give this otherwise svelte gun a little larger profile. But, this will help you get a lot better grip and overall shooting position so that you can have good form.
---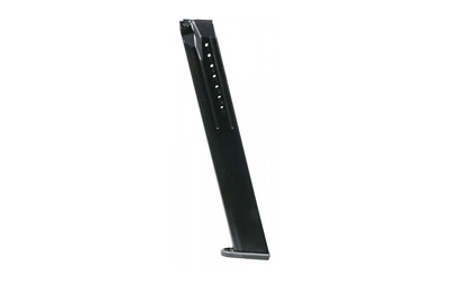 While we're on the subject of both ergonomics and magazines, there's something worth considering. In terms of concealed carry, the concealment aspect is of paramount importance. Most of the time, we want to avoid printing, and thus keep the standard, flush fit magazines in the gun most of the time.
At other times, however, the first magazine doesn't do the job well. At those times, you might want a secondary magazine that brings a lot more rounds to a bad situation. For that, Promag makes 32 round magazines for the perfect Ruger SR9c accessory. These steel magazines come in a classic blued finish and the usual Promag quality. These would be a great option for keeping in a bag you might have on you while concealed carrying, or for taking to the range. It's pretty hard to beat the fun of a 32 round, 9mm mag dump from a well running pistol.
---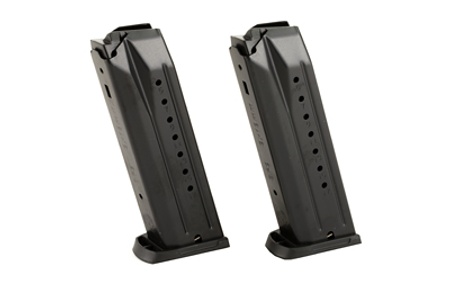 With that said, such mag dumps are not exactly what most of us have in mind when it comes to concealed carry. For perhaps slightly more practical options, we might want to consider going with something that doesn't stick four inches out of the bottom of the gun.
If you're looking for concealed carry friendly magazines that won't print, Ruger sells a two pack of OEM magazines. Ruger makes their accessories with the same attention to detail that they pay to the firearms. They're also really affordable. So, to confirm, yes, you get two 17 round OEM magazines for this price and they're made to run really well in your Ruger.
---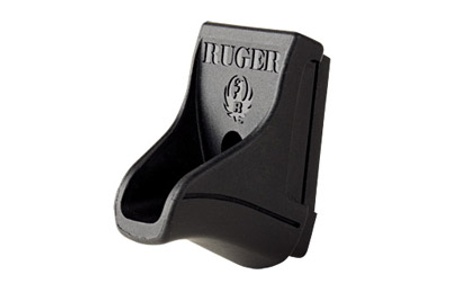 With those new magazines in this already well designed concealed carry 9mm pistol, it's not a bad idea to keep thinking about ergonomics. While the flush fit magazines are just about perfect in terms of balance and keeping from printing, some folks might find that it's kind of hard to keep a full grip on them, especially when drawing in a hurry.
If you don't want to give up the overall slickness of this well balanced gun, but also want a better grip, consider these finger extensions. Unlike the magazine sleeve adapters, these replace the butt plate of the magazine and simply add an extra little bit for you to attempt to get a grip. Overall, these are a good option to add a lot of ergonomics with just a little effort and at a pretty reasonable price. These are not strictly speaking necessary, of course, but we find that the little bit bigger grip does help the SR9c fit a little bit better in hand.
---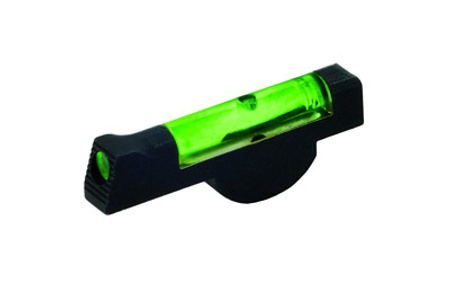 The SR9c is a modern, well designed pistol that feels good in the hand and shoots generally pretty well for a handgun with a trigger safety. But, it's not totally perfect, nor is any firearm. The sights are a little basic, of the tried and true blade and notch variety. With that said, there are some good upgrade options available to help make the SR9c work a little bit better for you. At least as far as we're concerned, it's vitally important to be able to get rounds on target both accurately and quickly should you need to.
In this case, we're starting with a front sight by Hi Viz. This fiber optic front sight slides in in place of your currently black front sight in gives you an extremely easy to follow green dot. You can, in fact, use this completely by itself and leave the rear sights as they are. The SR9c comes with a notch style rear sight from the factory, so having a green front dot for your sight picture actually makes target acquisition pretty easily. If you use the front sight by itself, though, you might lose just a little bit of precision. The tradeoff is that instead of precision what you'll have is an extremely easy to follow and thus extremely quick to follow green dot that you can simply place on your target. In the grand scheme of things this is a fairly minimal modification that can add a lot to the effectiveness of the firearm overall. The speed of a simple green dot is pretty hard to beat, and this is a good way to get one without some kind of micro red dot.
---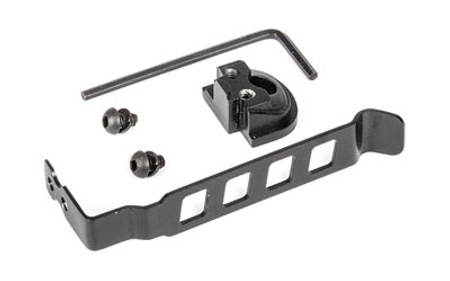 While we're messing with the sights, I have a pretty wild idea. The whole point of the SR9c, really, is concealed carry. This is a full-sized handgun without any major snags and made from lightweight polymer. With a firearm this well balanced and slick, it seems kind of a shame to stick it in a usual holster that adds a bunch of bulk.
So, if you have the slide off to mount some sights, consider a Technica clip. If you're familiar with the EDC knife world, which we hope you are, this will seem familiar. Really, this thing is a deep carry clip for the SR9c. What it does, effectively, is replace the back plate with a new one. This new one has two holes for screws. Into those screws, with the help of the included hex wrench, go a clip. Then you can "holster" your 9mm pistol as though it were a pocketknife, but inside the waistband. Normally, I would not advocate such nonsense, but since the SR9c has redundant safeties, it might be worth a try with this Ruger SR9c accessory.
---
7. Otis Technology Ripcord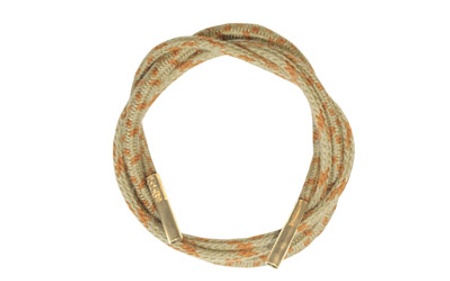 The SR9c is a well made and well functioning 9mm pistol. If you plan to carry it, we hope you practice with it a great deal and pick an ammunition that you shoot well with. Of course, if you end up going to the range and doing a fair bit of shooting, some cleaning will be in order. Honestly, modern handguns can take serious abuse and keep running. But we're of the mind that your carry gun should always be kept clean and in good working order . After all, you are depending on the thing to help you save your own skin at the worst possible moment. Do you want to worry about carbon fouling at a time like that? We didn't think so.
That said, cleaning the bore of a firearm is really tiresome with old school patches. Thus, we recommend adding a bore cleaning tool that does the job a lot faster and a whole lot better. In this case, we recommend the Otis 9mm ripcord. It's pretty simple to use. Put some solvent on it and run it through the barrel. Do that twice, and do it with lubrication once, and your SR9c will be spotless and ready to go with this great Ruger SR9c accessory.
---
8. Galco Underwraps Belly Band Universal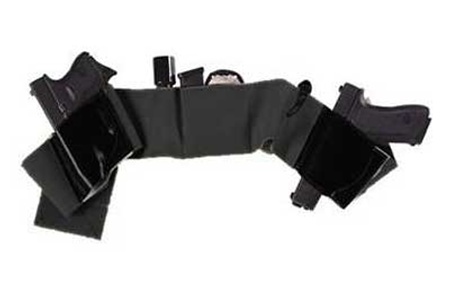 The Technica clip is a really cool idea, but one that isn't necessarily for everyone. Some of us will still want a little more traditional carry option that keeps the handgun put where you placed it, while also doing the work of covering the trigger guard. If you are looking for something along those lines, but also want great concealment, there are, of course, options out there for you.
For excellent concealment, we recommend a belly band like this Galco universal band as the perfect Ruger SR9c accessory. This particular one can hold two full sized firearms and some magazines at the same time. Similarly, they can hold phones, knives, or even flashlights. The concept is simple: it's a big neoprene band with some hook and loop to keep everything secure. We find these excellent for two kinds of situations. First, they can be used when running, if having something around your abdomen doesn't drive you nuts. Second, they're good for situations that require you to tuck your shirt in, while also maintaining a weapon securely.
---
9. Hoppes Silicone Cleaning Cloth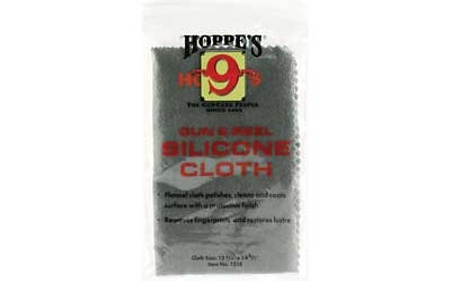 Ruger makes a really nice firearm, right here in the USA. With that said, it's certainly worth a little bit of money and some of your time to do your best in order to keep that firearm nice so with this Ruger SR9c accessory you can feel good about carrying it for years on end. What are you using to wipe down your firearms?
If you're anything like us in our first gun days, we used an old t shirt. These days, we think we can do a little bit better. Here, we have a Hoppes cloth that is impregnated with a little bit of silicone, in order to get anything off of the surface of your gun, as well as keeping it a little bit lubricated. These are also awesome for rust prevention of fishing lures.
---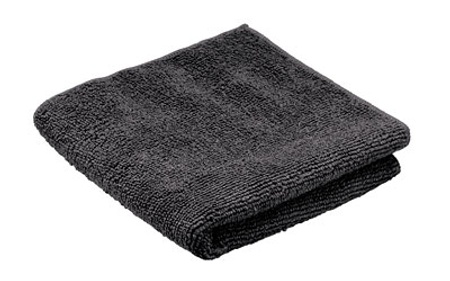 The Hoppes cloth is a great option if you're looking for something you can buy a few of, keep in the packages, and have in a few locations, such as glove boxes, range bags, and tackle kits. That said, sometimes you want to sit down, really take your time, and clean your guns to a factory new shine.
If you're having one of those evenings, consider this Remington cloth. Basically, it's a nice microfiber cloth with lubricant in it. This is what you use when you want your SR9c to look like it just came out of the box, and it will keep the polymer from fading with sweat and use.
---
Parting Shots…
In going through this list, we hope you'll find a lot of things useful. We think that Ruger really made a winner in the SR9c. It's a comfortable to shoot, well balanced 9mm handgun that is meant for, and built to serve, effective concealed carry needs. With that said, a few accessories go a really long way here. Some mags, perhaps am magazine extension, and some cleaning supplies and you are well on your way to a really good CCW solution that you can gladly live with on a daily basis.
---