Smith and Wesson Shield Accessories That Will Take Your Firearm To The Next Level
Advertisment
Recently, we did an article on some of the best handguns on the market today in the 9mm parabellum cartridge. Overall, the list presents a fantastic list; any of the firearms on it would be good options for concealed carry firearms. With that in mind, many of the entries on that list are full sized handguns, which might be a little hard to conceal and are certainly heavy. Read on to find the best Smith and Wesson Shield accessories.
That's not the case with the Smith and Wesson M&P Shield. The shield is designed from the ground up for concealed carry. First of all, it has a single stack magazine, keeping things light. Second, it gives you an option to have a manual safety, or rely on the trigger, depending on what you prefer. Those, combined with the large three dot sights make this an excellent option for carrying on a daily basis.
Here, we're going to focus on a few accessories that will make carrying the Shield an absolute breeze. Thanks to its popularity, there are tons of awesome accessories out there. Here, we focus on a few themes. First, we want to dial the ergonomics in as much as humanly possible. Second, once that's done, we work on the sights with a light, laser, or some new sights. After that, we settle into performance to try to make the Shield live up to its potential. Smith and Wesson have been making handguns, both auto loaders and revovlers, for a century now, so we have the impression that they really know what they're doing.
---
When talking about concealed carry, one of the major considerations has to be the holster. After all, that's how you keep the gun on your person. Ideally, a holster will be comfortable to wear, fit well with the style of concealed carry you want, retain the pistol well, and print as little as possible.
We think that the Bianchi Professional for the Shield is an excellent option that strikes a balance between all of those things. Leather tends to break in to the wearer with time, making it a really comfortable holster material. The large belt clip makes it easy to work into your daily routine. The good design retains the pistol well and, importantly for non-safety models, covers the trigger guard. Finally, the more natural shape of the leather, as compared to kydex holsters, really does cut down on printing.
---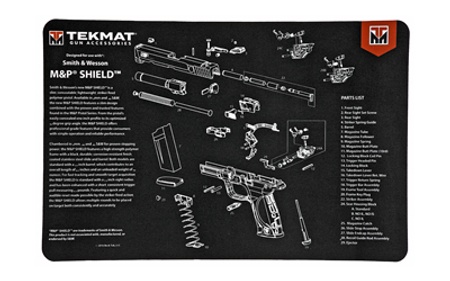 Smith and Wesson does make a really nice firearm. Generally, their fit and finish are top notch. I, for example, own one of the AR's from this series and have been really impressed with the durability of the finish over a few thousand rounds. With a nice firearm, you may as well invest in keeping it nice. To that end, using an old towel on a table seems like it doesn't quite do the job as far as finding a spot to keep the Shield in top shape.
No matter where you clean your gun, you'd rather not scratch the gun, lose parts, or damage the table. Thus, we recommend Tekmats. They're pretty simple in concept, it's a rubber mat with a printed neoprene finish that you place on a surface to make it a little softer spot on which to work on your guns. This one has the parts diagram of the Shield printed on it, which we think comes in handy. They also make lots of other pistol versions, rifle versions, and some novelty products as well, so check them out. I suppose they would also make really good mouse pads, assuming you have the desk real estate.
---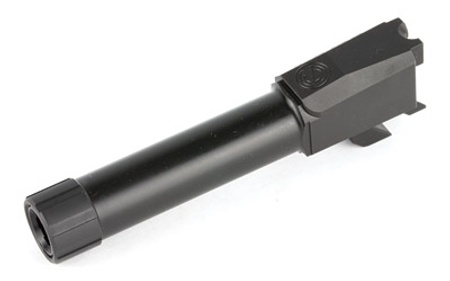 The 9mm parabellum suppresses really well. Thanks to its design, it still perform when subsonic, and the bull weights are generally high enough that you can still get enough energy to both cycle the slide and maintain some performance downrange. If you happen to have a 9mm can, using one on your carry gun makes sense in certain situations. For example, many of us keep our carry gun in a bedside table incase of break ins. Have you ever fired a gun inside, at night, without ear or eye protection? We do not recommend it.
Instead, consider suppressing your home defense tool with this barrel to help you along the way. Silencerco is one of the best suppressor manufactures out there, and they have been making their own barrels for some time now. This particular one is made for the Shield and drops in just like the standard barrel when you've taken the gun apart for cleaning. The difference is that this one has 1/2 x28 threads and a thread protector, so you can screw on a suppressor when you want to. This is an easy to install modification that really makes a great Smith and Wesson Shield accessory.
---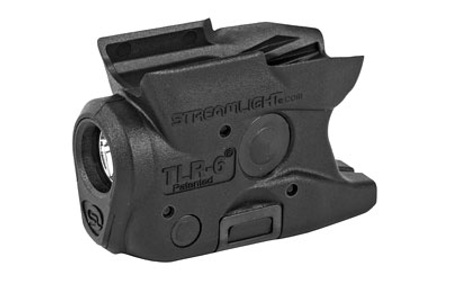 As we mentioned in the intro to this piece, the Shield is designed with concealed carry in mind. Part of that design is the addition of a rail on the frame in which to mount an accessory. Concealed carry means being ready for more things, more of the time. As part of that philosophy, and as responsible gun owners and representatives of the firearms community, we advise you to not shoot what you cannot see. Gnerally, suppressing fire is not the name of the game here: you're defending yourself against one or two bad guys, not a platoon of enemy soldiers.
With that in mind, it makes a lot of sense to stick a light on the Shield. This one, by Streamlgiht fits on the front rail. It takes, and includes, 2 CR 1/3N batteries and emits a 100 lumen bright light. We like that it has an on/off button that you can hit with your offside hand. That way you can use brief bursts of light to see without positively confirming your position to someone who would do you ill. Additionally, it comes in a black finish that matches the firearm well and doesn't add a ton of bulk to the slick overall package that is the Shield.
---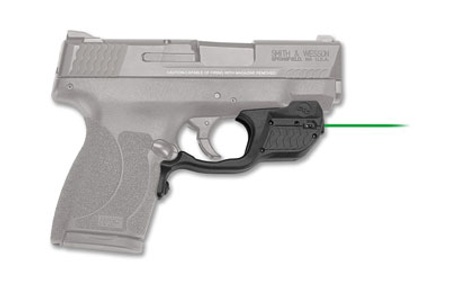 That accessory rail on the bottom of the Shield gives you a fair few options to add quite a few different Smith and Wesson Shield accessories. A light, as we mentioned, is a good one. With that said, we know that not everyone needs the same things and a full flashlight does, by design necessity, add a little bit of bulk to a gun. If you do want to exclude the light, that makes sense.
But, we may as well still try to make good use of that rail. The Shield's stock three dot sights are honestly good ones, but some people will still want a little more intuitive sighting system for concealed carry, especially considering that you may well end up fighting without the opportunity to take a second to get a good sight picture. This Crimson Trace Laserguard does that. This particular model replaces the stock trigger guard and occupies the front rail. This cuts down on overall bulk, with the major added benefit of having an easy to see green laser dot for a sighting option.
---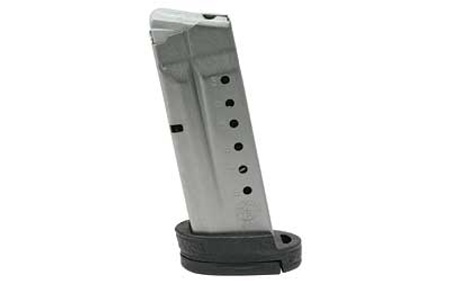 One of the great things about the Shield is that it is a slick, easy to conceal package that, overall, is really quite slim. With anything in design, though, that means a tradeoff has to be made somewhere. In this case, that tradeoff was that the Shield has single stacked magazines that have a pretty limited capacity.
With that in mind, we think it's probably a good idea to pick up a few spare magazines and keep them nearby if you're carrying. Here, we recommend the OEM mags that run very well in the gun and give you 8 round of 9mm each. When I carry a single stack, I keep a magazine in the gun and two in a bag nearby. That puts me at the same overall capacity as some of the bigger, harder to conceal handguns, assuming I train well and can do quick mag changes under stress, which is something you're going to need to practice as well.
---
7. Pearce Grip Smith & Wesson M&P Shield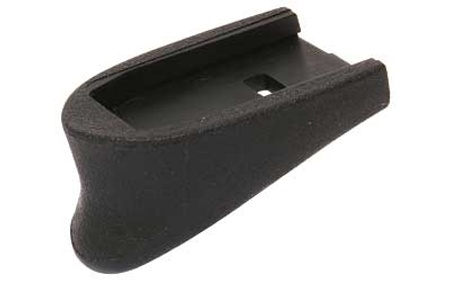 While we're on the subject of magazines, it might be worth talking about the egonomics of them. The Shield is really concealable and slick,yes, but some folks might find it hard to get a proper grip on the gun, especially when drawing in a hurry. There is something that we can do about that, however.
In this case, there's a really simple fix. The Pearce Grip grip extensions add just a little bit more length to the grip of the Shield, allowing you to get your pinky finger on the gun instead of below the magazine well. They install right onto the floorplate of your OEM mags, and overall, we think, upgrade the ergonomics of the Shield in a really sensible way without giving up much, if any, concealability. While you can certainly train around not having a full grip on the gun, 9mm can be more than a little bit snappy and, as such we like to give ourselves the best possible chance to be able to shoot well. To that end, a grip extension is a cheap and easy modification that we think is more than worth trying out for your next Smith and Wesson Shield accessory.
---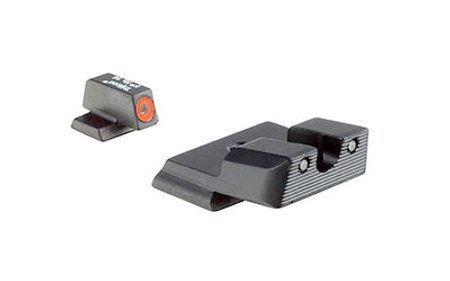 Really, we don't terribly mind the stock sights on the Shield. The three white dot setup makes a lot of sense and is pretty quick to use, both things we like in a pistol sight. There are, however, people looking to squeeze every once of performance that they possibly can out of their handguns. If you wanted to make the Shield the ultimate night fighting gun, for example, a suppressor and the Crimson Trace laserguard are a great start. But then those nice white dots kind of disappear in the dark. What can we do?
One solution would be to replace the stock sights with this Trijicon HD set made for the shield. Trijicon really needs no introduction. They've been in the optics game forever, and they make excellent stuff. With that in mind, these night sights retain the three dot setup, with a bit of an upgrade. That upgrade is the inclusion of tritium, which will keep these sights glowing brightly in the dark for many years to come with this Smith and Wesson Shield accessory.
---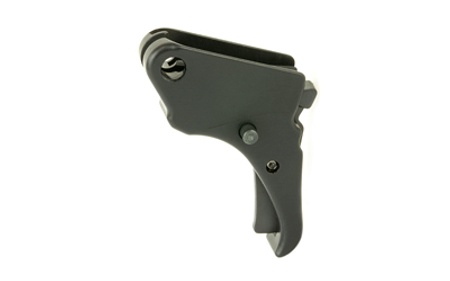 At this point, we're trying to make the Shield the best firearm that we possibly can. One the ways in which we can do that is taking a look at the trigger. The stock trigger is just fine, but the goal is to create the absolute best 9mm handgun that we can, why not think about it?
This Apex Tactical Specialties trigger is a compelling upgrade making it the perfect Smith and Wesson Shield accessory. It shortens and lightens the trigger pull and makes the reset both shorter and a little bit more crisp. For faster follow up shots, this trigger is an excellent choice.
---
10. ProMag S&W Shield 9MM 50RD DRM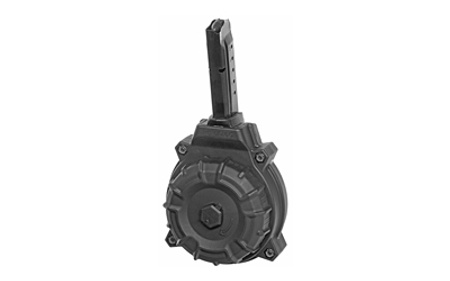 Earlier, we had mentioned that one of the potential limitations of the Shield was that it only came with single stack, 8 round magazines. And, for concealed carry purposes, that is largely true. But there is one exception that is worth talking about here.
Promag has decided to release a 50-round drum for the shield. No, you did not misread that. If you need to put 50 rounds of 9mm on target, you can do so with this small, relatively compact pistol, now with a 50 round drum hanging off of the bottom. So, if you do, in fact, need to suppress a platoon of enemy soldiers, this might just be the magazine you were looking for.
---
Parting Shots…
Smith and Wesson have made a really compelling pistol in the Shield. It's small, designed for concealed carry, and is generally a really slick design. We think that, with a few little modifications to internals, sights, and the trigger, it can become one of the best 9mm handguns ever made. So, we hope you got a lot out of this list and take the chance to check out this excellent firearm and its accessories.
---