Must Have Accessories For Any Glock 19 Owner
Advertisment
Chances are, you've recently read our article on 9mm pistols. If you haven't, go ahead and check it out. Despite being one of the older handgun calibers still in use today, the 9mm parabellum, or 9×19 round is a serious contented in the contemporary handgun world. Read on to find your next Glock 19 accessory.
One of the major players in that space, it almost goes without saying, is Glock. Military, law enforcement, and civilian shooters the world over trust Glocks with their lives every single day. It's also one of the handgun platforms most open to being accessorized and modified, which you'll see shortly.
If you're thinking about or have chosen a Glock 19 as your carry or main 9mm pistol, here is a list of things you might find very useful in getting you off the ground in terms of shooting and taking care of this fine piece of Austrian engineering. In this build, we're focusing on a Glock 19 set up for concealed carry. Thus, we're be looking at ways to keep positive retention of the gun, make it run better when you need to use it, and keep it running for a long, long time.
---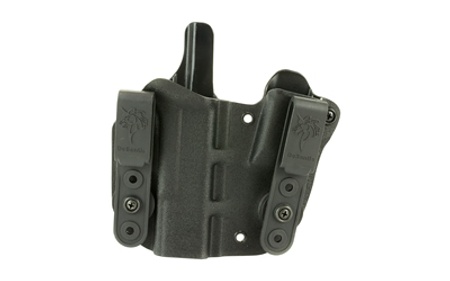 Of course, if you're buying this pistol, chances are it's going to be to carry it. For the majority of us, that means concealed carry. When we're looking for a holster, we look for a few things. First and foremost is user comfort. The gun you have on you will do a lot more good than the one at home in the safe, if you need to defend yourself immediately.
Second, you're going to need something stable. The Glock 19 is light, being mostly polymer, but is a full sized handgun nonetheless. With that in mind, you want it to stay put once you put it on in the morning. Finally, good, positive retention is a must. Again, the idea is to have your carry gun stat where you put it.
This Desantis holster checks all thee boxes well. The holster lays flatly against you, making it easy to carry around all day. Second, it has two separate bely hooks that keep things exactly where you put them, which is vitally important to both comfort and a consistent draw. Third, the kydex design is well tensioned, keeping your new Glock 19 exactly where you put it, until you decide it's time to draw. This is a serious holster for people looking for a good value and high quality Glock 19 accessory.
---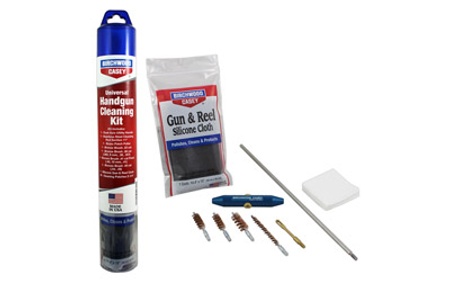 As a good gun owner and responsible carrier of firearms, you probably practice a fair bit. Practicing means putting round down range. That's a fairly dirty business. While all modern 9mm pistols are really quite reliable, if this is your carry gun, do you want to take the chance of carbon fouling around the striker causing a light strike and a misfire when you really, really need to send a round? I didn't think so.
Instead of risking that keep a solid cleaning kit in your range bag. This one has all of the basics to get a field cleaning done, and any outside finish work can be done pretty well with the addition of an old t shirt. This kit in particular has a rod, a handle, several kinds of brush, a cloth, and some patches to get you started. While not specific to 9mm, a general kit like this one will take care of most of your gun cleaning needs.
---
Even the most prepared among us cannot carry literally all the time. After all, we do need to do things like shower and sleep. What should we do in those moments where we can't carry a full size firearm? It's our view here that we also have a responsibility to safely store your guns when they're not on you. This is not a Glock 19 accessory, this is a handgun necessity.
When it comes to safe, simpler is oftentimes better. This SnapSafe lock bock is really just that: a steel box with a lock and a cable. It is not a John Wick style super awesome gun safe. It is, on the other hand ,a simple and battery free way of storing one handgun an a few magazines in such a way that you can access it quickly if you need to. A box like this one would be ideal for storage in a nightstand, or, using the cable, in a vehicle while at work or school in order to comply with relevant regulations.
---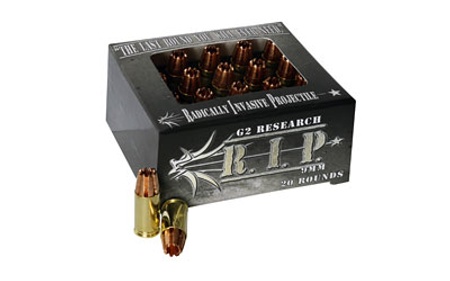 So, now you've got your Glock 19 in a holster, clean, and ready to go. Well, not quite. You're going to need some ammunition as well. Assuming you're carrying this for self defense, a very common choice is hollow point ammunition.
There are a few reasons people choose hollow point. First and foremost, it is lethally effective. The bullet fragments upon impact, causing, in this case, nine separate wound channels. That would, I imagine, dissuade most people from whatever they had been previously doing. Additionally, hollow points, after they fragment, stop pretty quickly compared to solid bullets. This is vitally important in situations where penetration is a concern, such as in a home or in public. This ammo by G2 research is some top of the line stuff, and is an excellent carry ammo.
---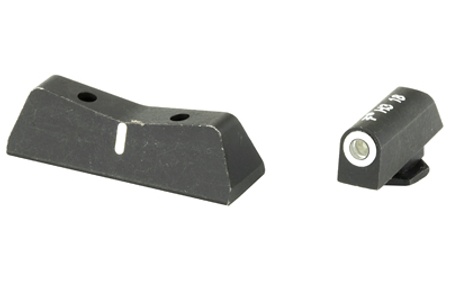 Out of the box, a Glock 19 is an excellent firearm, and literally millions of them are carried in their stock configuration with no ill effects. But, since Glock has long dominated the pistol market, there are as many was to customize one as there are days in a decade.
One of the ways you can make a Glock yours is to add some sights. In this case, we're upgrading the standard black sights with a set of XS sights that have a rear wedge with a clear front dot. We like the front dot for concealed carry guns. While not as precise as something like, for example, an aperture sight, it is dead easy to use, especially in bad situations. Put the dot where you want the bullet to go, get the read more or less lined up, and press the trigger. This particular model also contains Tritium, so it does, in fact, glow in the dark.
---
6. Talon Grip For Glock 19 GEN5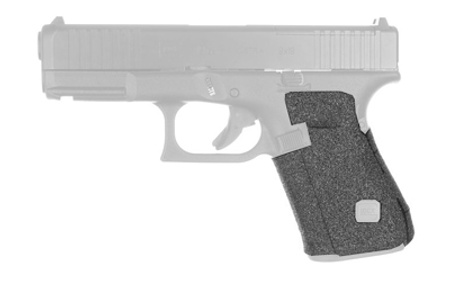 While we're on the subject of making the gun your own, one thing we can look at is the grips. Again, stock Glocks work just fine for lots and lots of people. That said, some folks, us included, get a little concerned at how slick that polymer can get. What if you had to shoot in the rain? How about with gloves on? If, God forbid, you're bleeding, your gun might end up pretty slick. That's why a grip is a must have when it comes to Glock 19 accessories.
For a carry gun, then, we really like a grip surface with as much traction as possible. That's why we recommend the Talon adhesive grip for this particular build. This stuff is almost like skateboard grip tape in that it locks your hands nicely onto the surface: that gives you peace of mind if you do need to draw and fire in an adverse environment.
---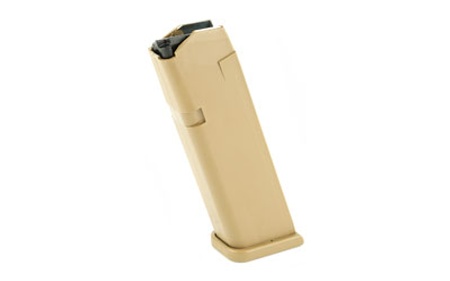 With all of that new ammo laying around, you're going to need some way to get it into the gun. When it comes to Glock, sometimes the philosophy that makes the most sense is not fixing what isn't broken. In this case, that means looking into an OEM magazine.
Glock makes these 17 round magazines such that they will fit any Glock 19 from any generation. That's handy if your 19 isn't your only Glock, or perhaps you're thinking about picking up another firearm that takes these popular magazines. This particular magazine fits flush with the bottom of the grip, which is why we picked it for this carry focused setup of the gun. It's pretty hard to go wrong with a magazine literally intended to work in this specific gun, made by the same manufacturer. When it comes to carrying a sidearm, that level of reliability and peace of mind is what we look for.
---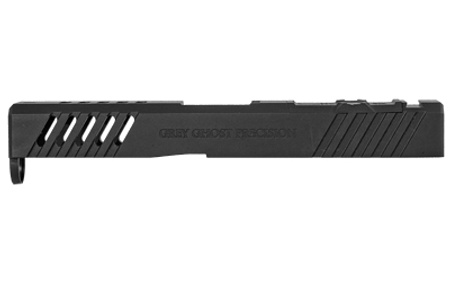 Getting a little more into the modification game, Glock is one of the platforms that has the most accessories available. Since it's one of the most popular handguns to have ever been made, you can find someone to do anything to a Glock, up to and including plate the thing in solid gold.
We're not going to go the gold route this time around. What we will do, though, is add a Grey Ghost precision slide. This new slide has two major benefits over a standard slide. First, the cuts in the slide cut down on overall weight. In doing that, you make the gun that much better suited to concealed carry. Second, there are cuts in this slide to allow for the mounting of a Trijicon RMR without any extra machining. That makes this a great addition to this full size 9mm pistol.
---
9. CMC Triggers Glock Gen 4 Trigger Assembly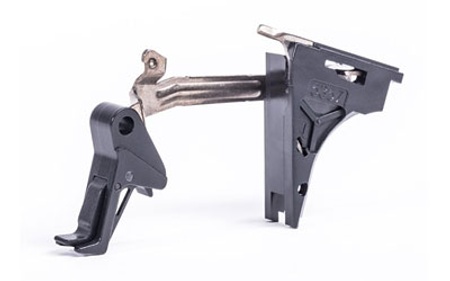 While you've got the gun apart to install the slide from our last pick, you might just want to keep going and get your handgun seriously modified with Glock 19 accessories. In order to do that, one of the ways you can do that is to consider how you interface with the gun. We've already covered optics, grips, and magazines. With those covered, you have most of the firing cycle more or less taken care of, except for one important element.
One major way to improve the feel of a gun to your liking is adding a new trigger. This one, by CMC, is one such option that gives you some awesome benefits. First, it does, of course, retain the trigger safety of the Glock platform, which is something that the platform's fans love. Additionally, this trigger is a little smaller than most, giving it less room for take up and travel. Last, and perhaps best, this trigger has a flat face, which many people find substantially more comfortable than curved triggers.
---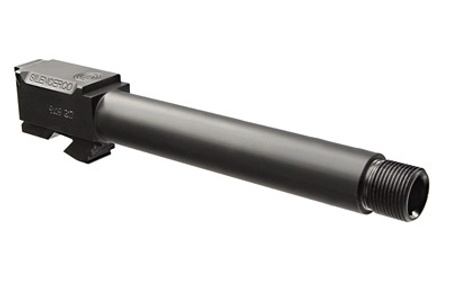 To finish out, we're going for one final mod that can really take a Glock 19 to the next level. For most of us, most of the time, we're building a concealed carry or duty gun. The amazing modularity of the Glock, though, has not escaped the attention of some high end modifications as well.
If you are in the market for a 9mm pistol that can play host to a suppressor, you are in luck. Silencerco, arguably the premier silencer manufacturer on the planet, makes a barrel of the Glock 19. This particular one can drop right in while you have things apart to install that new slide. It's got 1/2×28 threads, making it compatible with a wide range of silencers. If you have a 9mm can laying around, your Glock 19 can be a great host for it
---
Parting Shots…
The Glock 19 is one of the best 9mm pistols on the market. It is simple to operate, easy to take apart for cleaning, and has one of the biggest aftermarkets out there. In this article, we've really just begun to scratch the surface making the Glock your own with some Glock 19 accessories. There are a few things to keep in mind, no matter how you choose to modify or accessorize your Glock.
First, cleanliness and safety are everyone's responsibility. The last thing you want is for a gun to not work when you need it to, or get out of your control without your permission. Thus, get a good cleaning kit and a safe. If you plan on carrying a Glock 19, get an appropriate holster that will make for good retention of the pistol.
Beyond that, a Glock is a canvas for the creativity of its owner. You can modify the grip, slide, trigger, and basically anything else on the polymer wonder gun's frame. For this build, we lightened up the slide, made the grip a lot more positive, and put in a faster, more agile flat faced trigger. If you pair all of those modifications with some upgraded sights and good defensive ammunition, the Glock 19 can be, and is, a serious concealed carry piece.
---