Top Beretta 92FS Accessories That Will Enhance Your Handgun
Advertisment
Recently, we did an article on the best semi-automatic 9mm handguns. Of course, such a list would be incomplete without the Beretta 92FS. From 1985 until quite recently, it was the service pistol of American armed forced. Additional, many other militaries and police forces all over the globe have, and still do, placed their trust in these handguns. Read on to find the best Beretta 92FS accessories.
Thanks to its all metal frame, it has low recoil. It's been around for decades, so the aftermarket is good. Also, the ergonomics are super comfortable. In addition to all of that practical stuff, it was featured in the greatest Christmas movie of all time, Die Hard.
We think that the 92FS is a more than capable option for carrying a 9mm handgun. Here are ten things we think you'll find useful; if the Beretta is your choice for a daily use, carry gun. In general, we don't mess to much with the gun itself: it doesn't seem to be broken, so no fixing is required. Instead, we're looking for ways to keep the gun in good working condition for many years to come. To that end, some new magazines, perhaps a grip, and some upgrades on the internals will go a long way to ensuring the continued use and success of this fantastic pistol for a long, long time.
---
The Beretta 92 comes standard with 15-17 round magazines, which make them easy to carry, even concealed. With that said, sometimes you need more than 17 rounds to get the job done. While you'll probably stick to the standard magazines for your first one, you might find yourself wanting.
If you feel the need to put 30 rounds of 9mm towards something or someone in order to make them cease their nonsense, the 30 round magazine is an excellent choice. The game of the gun is weighty enough that the balance is not terribly ill affected by the additional rounds, and it gives you a lot of additional firepower. Also, if you happen to have the 92's cooler cousin, the 93R, which is a machine pistol ,the 30 round magazine would be the only option: accept no substitutes.
---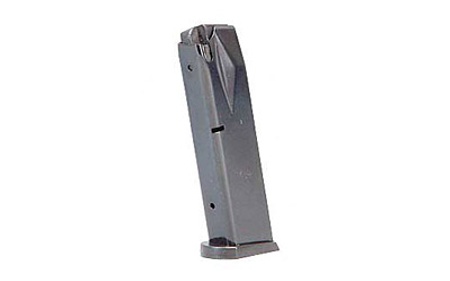 It is really, really hard to beat a 30 round magazine for sheer giggle factor at the range with your Beretta 92 FS. That said, it does stick out a fair bit from the bottom of the grip and would probably print pretty badly in a concealed carry environment. So, you'll probably want something a little more subtle for most situations.
Promag as exactly that. Beretta magazines are very nice, but can be a little expensive when you are also buying ammo or other supplies. Instead, consider these reliable mags by Promag, the perfect Beretta 92FS accessory. This model has a capacity of 15 rounds, and comes in an attractive blued finish that matches the frame of the gun very nicely. These mags are popular amongst people who carry the 92 on a daily basis, and we recommend them strongly. Pick up a few, and you'll be well set for magazines.
---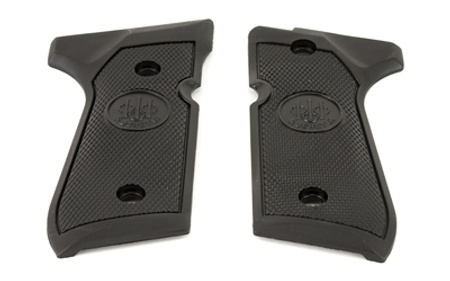 A lot of us come by our 92's through the surplus market, one way or another. Surplus military guns are sort of hard to come by, but with the adoption of the Sig P320, it might eventually happen. But, Law Enforcement trade ins are a staple of local gun stores and are a great option to get a fantastic carry gun at a reasonable price. That said, police guns are often carried for years and sometimes a little bit worse for wear.
This is especially true in terms of grips. The originals may well have a little bit of chipping, or even some pieces missing, after 20 or so years being worn in and out the line of duty, being knocked around a fair bit in the process. If you want to refresh your 92, consider these OEM grips from Beretta. Just a few screws, and you'll take years off the gun. Additionally, these have nice texturing that will help you keep a good grip.
---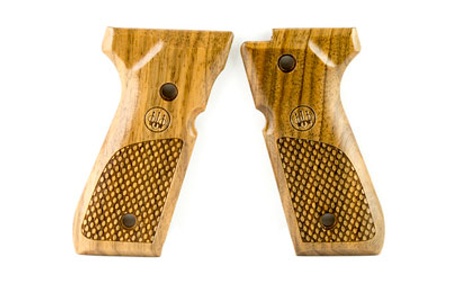 The plastic grips we just recommended are certainly a practical option, and a low key one. That's how the vast majority of 92's come from the factory, and are the way to go if you want to keep a stock look for yours. The black is a clean and slick look that many folks find attractive, and there's nothing wrong with that whatsoever.
They are not, however, the only option. Beretta makes really attractive looking walnut grips as well. These feature very well done checkering, and the trident logo stands out on these much more than on the black plastic options. Do keep in mind, though, that since Walnut does, unlike money, grow on trees, these will look different from one another. We see that as something of a plus if you want to make your 92FS really yours.
---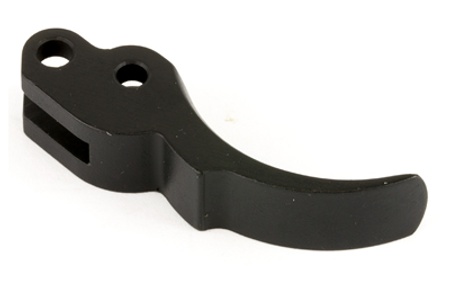 Remember earlier when we said that most 92s enter civilian hands as LEO trade ins? That doesn't just mean that you can expect some slide and grip wear. A lot of police shoot their guns often. Over time, that can begin to degrade some parts. One type of part that is susceptible to wear, and simply to time, are springs. Whether your gun is old, or just worn, these things will degrade over time. And that kind of degradation eventually leads to a break that you cannot fix easily on the fly. Thus, something should be done to prevent that from happening in the first place so we consider this a must have Beretta 92FS accessory.
So, if you want to carry your 92FS as your primary 9mm pistol for concealed carry, we strongly recommend taking some time and refreshing some of those parts that can wear out. Here, we offer a package that includes a new trigger, as well as trigger and hammer springs. This trigger is also steel, which some much prefer over the composite models that sometimes come with newer firearms. Overall, this is a great, and relatively cheap, way to add lots of life to a Beretta 92. Even if you bought your 92 brand new, just now, it is not a bad idea to keep this sort of thing around in a range bag or a parts bit at home. I make a habit of replacing springs on at least an annual basis in the guns that I shoot a lot, in order to never have to worry about them.
---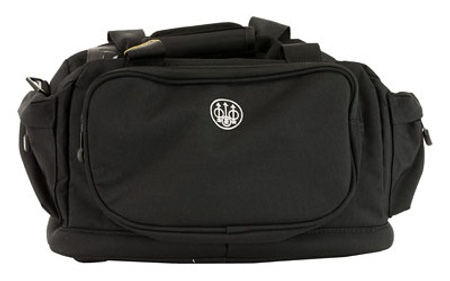 If you're anything like us, you have a fair bit of gun stuff. There's the gun itself, often in a padded case. Then there's mags, ammo, loaders, and a cleaning mat. Oh, right, cleaning. Better add the cleaning kit. And, of course, there's no excuse not to have ear and eye protection. While we're at it, let's toss in a multitool as well, just in case.
The point is, a range trip usually involved a lot of stuff. For those trips, with a 92FS, we recommend Berretta's branded bag. This one, aside from matching branding, offers a few nice features. It has a large internal space for big stuff, such as the pistol itself. There are also several external pockets to keep smaller things organized. Finally, there's a shoulder strap to make it a little easier to get to and from the car at the range. A good bag is a long term piece of kit, and this one is just such a bag.
---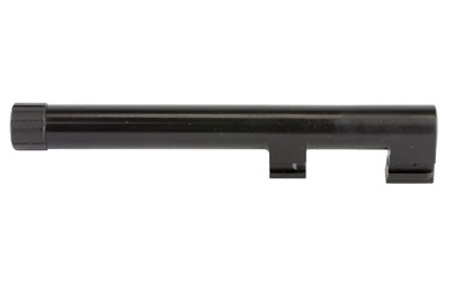 If you've been in the pistol game for a while, you might well have picked up a suppressor. The 9mm parabellum, especially when loaded to be subsonic, is a fantastic round to suppress in terms of low noise at muzzle while still retaining some solid kinetic energy. A fantastic Beretta 92FS accessories.
Suppressing the 92FS is a relatively simple affair. All you have to do is take the gun apart and drop in a threaded barrel. In this case, we strongly recommend this one by Silencerco, one of the best manufacturers of suppressors on the planet. This one is in 1/2×28 thread, so should accept a wide range of 9mm cans to make your 92FS fairly quiet, which some folks like for either fun, or self defense. Ever fired a handgun in the dark without ears on? If you have, you will likely wish you had not. Stick a can on it, and suddenly you have a home defense option that will not leave you nearly as disoriented. This barrel also comes with a thread protector, which we really like.
---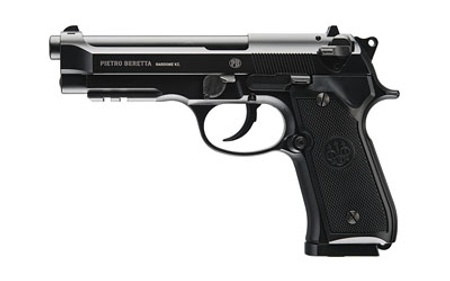 If you plan on concealed carrying the 92FS, training takes on a whole new level of importance. A lot of excellent trainers recommend, of course, putting as many rounds down range as humanly possible, as do we. But, with that said, ammo is expensive and time is limited, so we should also be open to other training options. There is a lot more to shooting a firearm then learning recoil management.
To that end, a quality airsoft replica can be an excellent training aid. This one, by Umarex, mimics the 92FS is nearly every way, except that you can actually fire this one inside without the cops being called. This would be an excellent training aid in terms of learning the operation and sights of your 92FS; that knowledge will transfer immediately to the real deal. Additionally, this is a great opportunity to get into airsoft, which is both a fun hobby and an opportunity for some tactical training.
---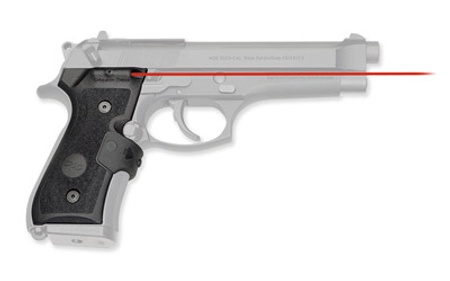 To be perfectly fair, the sights on the 92FS could do with a little bit of upgrading with this Beretta 92FS accessory. This is especially true in the kind of application that we have in mind here, namely concealed carry. You could always try to get some kind of red dot mounted on it, but that involves a lot of gunsmithing. Instead, we have little different idea in mind.
Crimson trace makes a laser grip for the Beretta 92! This one installs really quite easily, replacing the stock grip of the gun with this new one that has the integrated laser. The battery can be replaced without taking the grip off again, which is a major plus as far as we're concerned. The activation switch is on the part that wraps around the front of the pistol grip, making sure you'll never have to fumble for it. It's also a pretty low-profile solution, so you can almost certainly keep using the holster that you currently have.
---
A final consideration worth thinking about with the 92FS as a concealed carry gun are the ergonomics. Overall, the grip is very comfortable and the firearm is dead easy to use in its operation, especially if you get one of the ones with the slide mounted safety. There is, of course, always room for improvement.
One thing you want to do really quickly, if you need, is change magazines. We find the mag release on the 92 to be just a little bit small. Thus, we recommend this handy replacement that is just slightly oversized and well textured. That makes it such that you can easily find it without having to take your eyes off of whatever situation you may have in front of you.
---
Parting Shots…
The Beretta 92FS is, by itself, an excellent service pistol that served military and police forces well for years. Thus, its reputation among us civilian shooters is cemented, probably for many more years to come. With that said, a few simple modifications and some good kit can really turn the 92FS is a superb carry option in 9mm.
Here, we recommend swapping out the grips with either a new set, or perhaps one with a laser in order to get things started off somewhat refreshed. Similarly, upgrading the internals a little bit can make a big difference in the overall feel of the gun. To really step things up, consider a training aid or a new barrel. And, of course, don't forget a decent bag in which to store all of your kit.
---