Best Sig MPX Accessory List [Top Ten Accessories]
In recent years, the concept of the pistol caliber carbine has really taken off. These light, handy defensive carbines started, conceptually, in the Second World War, where several militaries were faced with a puzzle: not all troops needed a full size rifle, and those who didn't need a rifle also couldn't be really trained to shoot a pistol well. Between pistols and rifles, the former are a lot easier to carry, sure, but anyone with experience shooting both will tell you that it is hard to shoot a pistol well. Instead, the M1 carbine was invented. This light weapon was smaller than a rifle, and thus could be carried by folks like guards and truck drivers, and fed from detachable box magazines. This made them popular rifles both during and after the war for folks who needed a light carbine. Today will be discussing a modern PCC throughout this Sig MPX accessory list.
Now, we meet the modern era with another serious innovator, the MPX by Sig. In the last few years, sig has been hitting it out of the park in terms of pistols, and this is their entry into a similarly good rifle space. The MPX is easily a world class competition and defensive carbine. They've also made it very easily customizable and thus, we're going to recommend ten accessories that we think will help you make the Sig MPX a truly fantastic pistol caliber carbine.
In this list, we're going to give you everything you need to tune the MPX to your need. To get you on target, we're recommending optics and a light, with a compensator to keep you there once you do decide to start sending rounds. Speaking of rounds, you have to keep the MPX fed with 9mm: magazines, a loader, and some magazine couplers should do the trick there. Finally, to really get the most out of this pistol caliber carbine, you can dial in the ergonomics with a magazine release, a charging handle, and a new trigger. Whichever mods you choose, we think that you'll be happy with the Sig MPX pistol caliber carbine.
---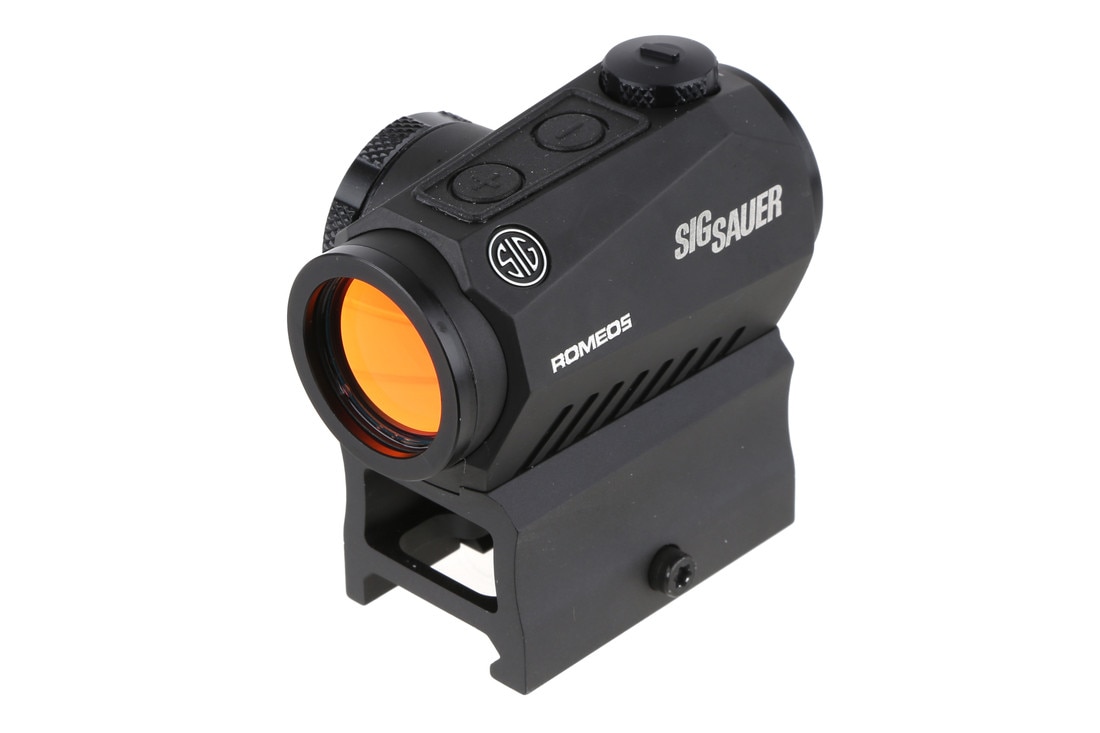 In order to make the most out of any weapons system, it's important to be able to get rounds on target. This is obviously no different for a great competition carbine like the Sig MPX. On most pistol caliber carbines, we recognize that speed is of the utmost importance: you're not likely going to need, or want for that matter, to make 1000 yard shots with something shooting 9mm. You are, on the other hand, going to want to put rounds on target out to medium range, quickly.
Thus, we recommend the Sig Sauer Romeo 5 red dot. When the manufacturer of the firearm also makes some of the accessories, we like to recommend them together. It just makes sense, given that Sig themselves likely tested the two together, and could certainly answer any questions you had about either. This red dot sight has a crisp MOA dot, all metal construction, is water resistant with quality glass, and will last about 50,000 hours on the low setting with a single CR 2023 battery. Basically, this is one of our go-to optics and a great Sig MPX accessory.
---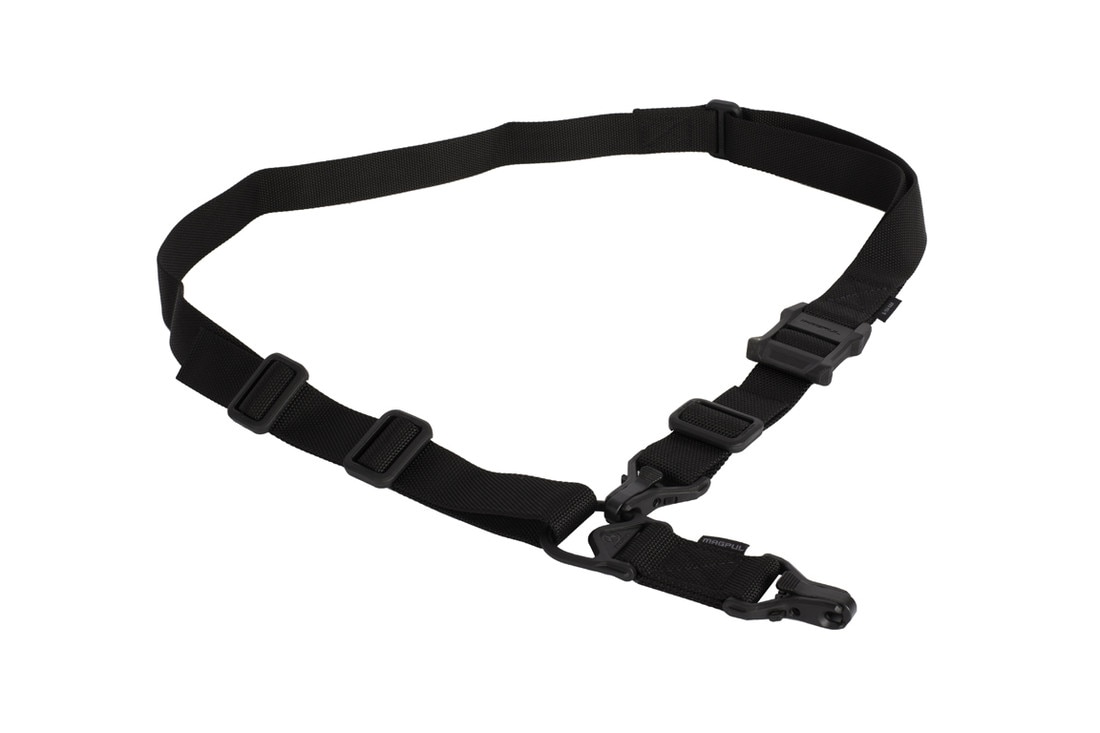 The main advantage to a pistol caliber carbine, we think, is just how handy they are while still delivering superior firepower and ballistics to a pistol. So, it makes sense that in using one, for either competition or as a defensive carbine, that you're going to want some way to keep the gun on your person. Thus, we recommend a quality sling.
This one, from Magpul, offers a lot of flexibility. It is meant to be run as a single point sling that is attached to a ring on the castle nut of an AR, but can also be used on one of the many quick detach points offered on the MPX. A single point sling on a loop of some kind is a great option for anyone who thinks they have the need to switch hands, whether on a tough competition stage or in a home defense situation. It can also be unhooked and run as a two point sling, which makes it a bit better for use as a shooting stabilizing device. Basically, we think a good sling makes a great Sig MPX accessory.
---
One of the least fun things about shooting is reloading magazines. On the range, it saps you of hand strength that we think you'd spend better in actual training rather than mindlessly jamming rounds into the tops of magazines. It also takes up time, and is boring.
To alleviate all of those issues, and a few more, pick up one of these magazine loaders from Maglula. Basically, you put this on the top of an empty magazine, put rounds in the top, and work the lever. This quickly and easily loads the magazine and, as a bonus, puts a lot less wear on the feed lips compared to manual loading. Overall, we think these are great, and if you pick one up you'll never want to go back to loading pistol, rifle, or carbine magazines any other way.
---
Earlier we had mentioned that it's important to us to be able to get rounds on target. A big part of that is generally being able to see what one would like to shoot at. In the case of a home defense firearm of any kind, but a carbine in particular, we think a light is an absolute must.
This one, the Surefire X300, is a pistol light and we think that's appropriate for this application. One of the main things we like about the MPX is how light and handy it is, so the more we can maximize on that, the better. There are, indeed, bigger and heavier lights out there that might give you more features. But, that weight gets awfully heavy the longer you have to carry the gun. Instead, we think this one, with its 1,000 lumen output and solid construction, is a great Sig MPX accessory. We also think it might be a good idea to stick the exact same one on a pistol: that way, the training you do with one easily transfers over to the other.
---
Focusing, for a moment, on the ergonomics of the MPX, it's really clear that it takes most of its cues from the AR series of rifles. And that's great: the AR is a handy platform to begin with, also having borrowed from the lessons of WWII in the development of the carbine as a system. One thing that people don't always love about the AR, though, is its relatively small magazine release. This issue has persisted into the MPX, but we have a solution.
This magazine release, by Odin, gives you a much, much bigger paddle for the magazine release and can be changed out by following the simple, included instructions. It also comes in bright red if you choose, making it even harder to miss when wearing gloves or shooting quickly. An updated magazine release like this one is a must if you want to build a seriously quick and slick competition MPX.
---
Like we had mentioned with the red dot sight, when the manufacturer of a firearm makes accessories for that firearm, we like to use them to ensure the best possible reliability out of the weapon system as a whole. This is especially true of the MPX, which we expect that you'll be running pretty hard either in competition or in training for use as a home defense weapon. When seconds, or lives, count, do you want to wonder if some of those bargain bin accessories you have stuck in your gun stuff box (yes we know about that, we have one too) will get the job done? Didn't think so.
Here, we're recommending the OEM MPX magazines from Sig themselves. These magazines have a polymer frame that is transparent, meaning that you'll be able to see how many rounds are left. They come in 10, 20, and 30 round variants, meaning that you can both get what you want and stay within state compliance. We think that it's worth getting the best possible magazines for your next Sig MPX accessory purchase.
---
Speaking of magazines, what do you do when the gun goes click instead of bang? You look down at those nice OEM magazines that we just recommended and see that it is, in fact, bone dry. Then it's time to do a reload. If you're in competition, those next few seconds are what separates good scores from truly great ones. A chest rig with magazine pouches is a good way to go, but there's something that can make the whole operation just a little bit more slick.
These are MPX magazines couplers from Lancer. Basically, these do what a lot of high speed folks have been doing since the Second World War, and they get your second magazine mounted to the first for fast reloads. The earlier versions of this were literally tape and cardboard, so, as you can imagine, did not last long. These on the other hand are made from high quality polymer and hold the second magazine to the first at an angle so that you can get things in and out of the gun without getting held up on anything. For competition use, these are seriously slick and might shave some seconds off your carbine stage time with this Sig MPX accessory.
---
The MPX, in its handling, is based on the AR platform and, the vast majority of the time, we really like that in that it's a weapon system that is both ergonomic and very faimiliar to a large proportion of shooters. One place where the AR is a little bit behind the curve, though, is in its stock charging handle. They're a little small, hard to get to with gloves, and not at all left-hander friendly.
Lucky for us, the folks at Radian have made one of their industry leading charging handles for the MPX. Basically, this is a Radian Raptor cut specifically for the special bolt carrier of the MPX. Thus, you get their usual improvements of much bigger charging handles as well as there being two of them rather than one. If you're looking for a drop on upgrade for your pistol caliber carbine that will make it the best defensive carbine, go with this Sig MPX accessory to make charging the weapon a lot quicker and easier.
---
Next Level Armament Speed Break
As far as recoil goes, people are a little bit surprised by 9mm pistol caliber carbines like the MPX. Since we see that the .223 is a much bigger round in terms of length, we think that we'll be able to muscle a 9mm on target no problem. But, with the added barrel length afforded by the carbine length barrel comes a little recoil, and in some cases a carbine can be just as snappy as a .223, if not more so.
If you want to tame the recoil of your MPX substantially, go for this screw on compensator by NLX. Since the MPX comes with a threaded barrel, all you have to do is unthread the protector, apply some thread locker (trust us, it's embarrassing to have to go looking for your new compensator at the range), and thread this one. It will make the recoil of the MPX pretty much evaporate in terms of muzzle snap, which the 9mm is famous for. This would be a great Sig MPX accessory to the best competition carbine on the market that will help you make second and third hits much faster?
---
Another thing that the MPX inherited from its AR roots is the trigger. Some people. Myself included, do not have a problem with military spec triggers at all. A lot of people, especially those trying to get the best times in competitions, do have a problem with them though, and for this there's a solution.
This single stage trigger by Timney is much, much smoother than a two stage mil spec trigger and has basically no creep whatsoever. Once you install this, which you can almost certainly do at home even with minimal experience and just a few tools such as a set of punches, you'll have a crisp 4.5 pound trigger that will make the MPX run just a little bit slicker as one of the best competition or defensive carbines on the market today.
---
Parting Shots…
In this list, we've tried to show you a number of things that we think can make the MPX live up to its excellent potential. First, we think it's important to be able to get rounds on target. Thus, adding an optic is a must, and we think a light and compensator can go a long way to making sure that you can get on target and stay there once you do start engaging. After that, it's just as important to actually feed the gun so you can keep putting 9mm where you want it. Thus, some OEM magazines, a magazine coupler or two, and a magazine loader are really useful tools for most of us. Finally, the Sig MPX is an excellent, even world class pistol caliber carbine right out of the box, but some people will want to tune the ergonomics to meet their exact wants and needs, so a charging handle and a new competition trigger can come in very hadny for those folks.
No matter which of these modifications you end up picking, we think that you'll be really happy with the Sig MPX. Inspired in terms of ergonomics by the AR family of rifles, chances are you can just pick up and go. The handy thing with that is that all of the training crosses over between the two in terms of fundamentals. Depending on ammo prices, that might be a good reason to pick up a pistol caliber carbine in and of itself, as we think it's the best thing to try to train as much as possible, but we know better than most that ammo blows holes in budgets at least as well as it does in targets.
With that said, the MPX isn't some novelty, it's a more than capable pistol caliber carbine that we find to be light, accurate, and easy to use. That's why we've decided to talk about it here, and we hope that a few of you pick one up!